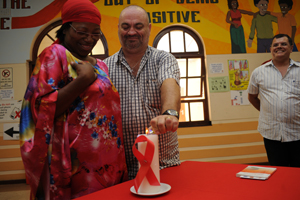 Photographed at the revamped Chapel Street Clinic in Salt River are the City of Cape Town's Nombeko Mpongo ( HIV/Aids information officer) and Jacobus Groenewald (HIV/Aids counsellor).
Afresh coat of light blue paint delineates the newly refurbished section of the Chapel Road Clinic in Salt River. The area has been transformed with several counselling rooms, improved patient access and private waiting areas where patients can receive tailored care.
This is a renovation spearheaded by Drs Rod Dawson, Greg Symons and and Kim Narunsky of UCT's Lung Institute, who have built a unique partnership with the clinic, which services Cape Town municipality staff and their families.
Dawson insists that the project was small and they did "very little", but explains that the refurbishment equips the clinic to cope with an increasing number of patients.
"The clinic was incorrectly configured to accommodate people without risking exposure to tuberculosis," says Dawson. "The clinic staff was potentially also being put at risk."
In return, the clinic has been a research resource for the Lung Institute. Over 100 patients at the clinic have been referred to the Institute for research and, as a result, have become some of the first patients in the world to be placed on new tuberculosis drugs.
"It is through our involvement with the clinic that we're able to do this work," says Dawson, who expects the treatments to be rolled out worldwide in the future.
"Through funding this refurbishment, we have strengthened our links as academics with the community we serve."
"I want to thank you for what you are doing and I'm proud to be a part of the first municipality in South Africa to offer this service to our staff and their families," said Cape Town Mayor Dan Plato at the official opening of the new section on 27 January.
"I hope that this development will inject you with renewed energy in dealing with employee wellness."
---
This work is licensed under a Creative Commons Attribution-NoDerivatives 4.0 International License.
Please view the republishing articles page for more information.
---