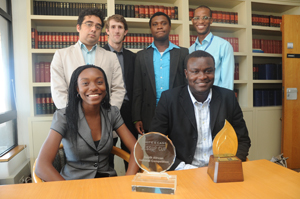 High five: The UCT law team that won the South African national round of the Phillip Jessup International Law Moot Court Competition is (from left, back) Muhammad Ebrahim, Douglas Ainslee, Soseipriala Amabeoku and Benson Olugbuo (team advisor). (Front) Unesu Moyo and Shalom Ndiku.
A team of five UCT law students has won the 2011 White & Case South Africa Jessup Competition, part of the Philip C Jessup International Law Moot Court Competition, held at the University of Johannesburg on 29 January.
The team, consisting of Muhammad Ebrahim, Douglas Ainslee, Unesu Moyo (who also bagged the Best Oralist Prize), Shalom Ndiku and Soseipriala Amabeoku, is eligible to represent South Africa at the White & Case International Rounds in Washington, DC, from 20 to 26 March.
Guided by advisor Benson Olugbuo, a teaching and research assistant and a PhD student in the Department of Public Law, the team beat the Universities of KwaZulu-Natal, Pretoria, the Western Cape and Johannesburg to win local honours. The second-year students will now compete against 110 international teams for the coveted White & Case Jessup Cup.
"It has been truly inspiring to witness the hard work and dedication demonstrated by each student participating in this competition," said Steve Raney, partner at White & Case Johannesburg and Jessup Competition Judge. "We have seen firsthand how teams of students analyse complex problems and work together to find viable solutions. These are valuable skills that will help them throughout their legal careers."
The UCT team clinched first place in a tight final against the University of Pretoria.
"The final was especially close and could have gone either way," added Raney. "Both teams should be commended for their impressive performances."
Team advisor Olugbuo attributed the UCT team's success to the members' ability to think for themselves.
"And they put in a lot of hard work at the two practice rounds."
South African universities have competed in the Jessup since 1979, with the University of the Witwatersrand winning the Jessup World Championship in 2002.
"UCT won the South African leg of the competition in 2009 and we are thrilled that the 2011 team, who gave up a substantial part of their summer vacation, are national winners once again," said Dean of Law Professor PJ Schwikkard. "Unfortunately we're unable to send the whole team to Washington."
(Follow the UCT team throughout the White & Case International Rounds on the Jessup website at www.jessup.whitecase.com. Or you can follow the group on Twitter.)
---
This work is licensed under a Creative Commons Attribution-NoDerivatives 4.0 International License.
Please view the republishing articles page for more information.
---