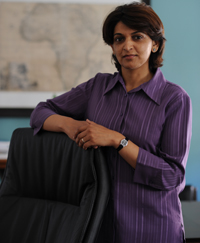 Into office: Miriam Hoosain is UCT's new Executive Director: Human Resources.
January was something of a red-letter month for UCT 's Miriam Hoosain; the start of a new year and of a new career as new Executive Director: Human Resources.
With 11 years' experience in management and HR, Hoosain is no stranger to the complexities and demands to be found in management at a large and dynamic institution. She started in the university's HR Department in 1999, when she was employed as an Employment Equity Officer. She has been promoted steadily in the department over the years, and has served as senior HR advisor to the Faculty of Health Sciences since June 2004.
In August last year she took over as acting executive director of HR.
Hoosain is well versed in the challenges that the UCT department faces. These include the accessibility of the service, the sometimes inconsistent advice provided, policies and procedures that are open to interpretation, and an HR system that has to operate in an appropriately consultative academic environment (so none of the 'convenience' that comes from the top-down chain of command common to corporates, for example).
A self-confessed workaholic, Hoosain is not backing off from these challenges.
"I have all these ideas which I think will work," she says. "But I think it's about working with people - it's not a personal journey - and about motivating a department, and each and every person in the department, to take on this challenge, and see this as a journey for all of us to deliver a different kind of service to UCT."
A victory for HR, she says, would be for more to see people issues as integral to the university. "For UCT to measure its success by the success of its people," she says.
Human resources is not Hoosain's first calling. She worked as a scientist at the Centre for Epidemiological Research in the Medical Research Council, as a researcher for the Gender Equity Unit and a lecturer in the Psychology Department at the University of the Western Cape, and as a researcher in the New York Psychiatric Institute in the US.
Her areas of academic interest are in women's health as well as psychology.
Hoosain will report to deputy vice-chancellor Professor Thandabantu Nhlapo. She will be responsible for the leadership and management of the HR function at UCT, and will contribute to UCT's mission as a member of the executive team. She will provide strategic direction for the university's HR requirements through the development and implementation of an institution-wide human capital management strategy.
---
This work is licensed under a Creative Commons Attribution-NoDerivatives 4.0 International License.
Please view the republishing articles page for more information.
---