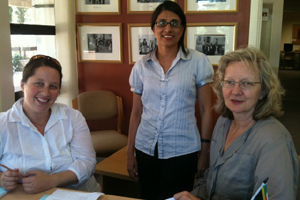 Enabled: Refugee Rights Project director Fatima Khan (centre) with senior Attorney Tal Schreier (left) and lead researcher Vicki Igglesden.
The Refugee Rights Project in UCT's Faculty of Law will upgrade its teaching and research portfolios, thanks to a boost from the Foundation for Human Rights.
During 2011 the project will conduct research and produce reports on the access to justice for victims of xenophobia, the right of refugees and asylum seekers to work in South Africa, litigating the rights of refugees in South Africa, and the future management of permanent residence for long-stay refugees.
The project will also use the new funding to run courses for an initiative known as Sustained Advocacy for Empowering Refugees (also known as SAFER), which is aimed at providing training on the rights of refugees and asylum seekers, and the mechanisms for rights enforcement.
"I am extremely pleased with the progress made in direct legal services, especially the strategic litigation component, which has grown considerably over the last two years," says Refugee Rights Project director Fatima Khan. "The refugee law course has attracted a steady stream of students, but funding was desperately required to complete our vision of 'practice, teach and research'. The Foundation's grant is greatly welcomed, as it will significantly elevate the project in the direction we aspire to be."
The Refugee Rights Project was created to provide crucial legal services to the growing number of refugees and asylum seekers in South Africa after UCT's Law Clinic realised this need and employed its first refugee attorney in 1998. Now operating independently, the project consults with thousands of refugees and asylum seekers each year.
The Foundation for Human Rights is funded by the Department of Justice and Constitutional Development and the European Union under the Sector Budget Support Programme - Access to Justice and the Promotion of Constitutional Rights.
---
This work is licensed under a Creative Commons Attribution-NoDerivatives 4.0 International License.
Please view the republishing articles page for more information.
---