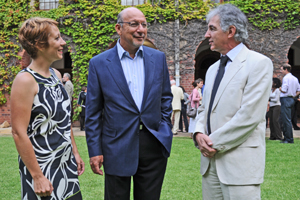 Partners against poverty: (From left) Executive director of J-PAL Africa Kamilla Gumede, Minister Trevor Manuel and vice-chancellor Dr Max Price.
The close interface between economists at UCT and policymakers in South Africa refuted accusations that universities are ivory towers, vice-chancellor Dr Max Price said at the launch of the Abdul Latif Jameel Poverty Action Lab for Africa (J-PAL Africa) this week.
J-PAL Africa is the fourth regional office of the international J-PAL research network, based at the Massachusetts Institute of Technology (MIT). The project aims to reduce global poverty by ensuring that government policy and programmes are based on scientific evidence.
The project's other key partners are in Chile, France and India, each of which serves as a node for that continent while also conducting comparative work globally. Founded in 2003, J-PAL now has more than 50 affiliated professors and has completed more than 216 studies in 23 countries. Its work focuses on seven programme areas: agriculture, education, environment and energy, finance, health, labour markets, and political economy and governance.
Two of J-PAL's founding directors, Abhijit Banerjee and Esther Duflo, professors of economics at MIT, attended the launch of J-PAL Africa, which will be led by executive director Kamilla Gumede and hosted by Professor Murray Leibbrandt, director of the Southern African Labour and Development Research Unit (SALDRU) in the Faculty of Commerce.
Welcoming delegates from 23 countries to the launch, Price said UCT had deep roots in the fight against poverty, and SALDRU had implemented a range of innovative surveys over the past 30 years to grapple with poverty.
"We are privileged to have been given the opportunity to host the African node of J-PAL because it speaks directly to two of our strategic goals: to increase the impact of research as well as to establish UCT as a hub of academic connectivity between Africa and the rest of the world."
At a private dinner on the eve of the launch, Trevor Manuel, Minister in the Presidency: National Planning Commission, reflected on the global influence of J-PAL.
"The Poverty Action Lab is a network of academics and practitioners who specialise in the methodology [of randomised evaluations] with the aim of evaluating and testing public policies, trying to figure out what works and drawing lessons and learnings from successful (and unsuccessful) efforts to reduce poverty and inequality and more generally, to improve the quality of public services to the poor," he said.
Commenting on the country's sluggish social transformation, he said: "South Africa's struggle against apartheid was never a narrow nationalist struggle for self-determination. From the very beginning, the struggle was characterised by a strong commitment and determination to end apartheid so that the state could act to end poverty, reduce inequality, broaden opportunities and restore justice to society."
Read Manuel's full speech.
---
This work is licensed under a Creative Commons Attribution-NoDerivatives 4.0 International License.
Please view the republishing articles page for more information.
---