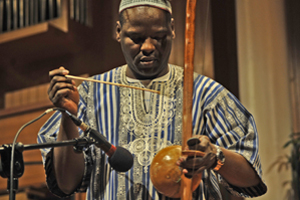 Summer beat: Dizu Plaatjies, celebrated percussionist and founder member of Amampondo, is one of several musicians to perform at the UCT Summer School 2011 in celebration of the South African College of Music's centenary.
An annual institution now in its 61st year, the UCT Summer School will once again see thousands of students streaming onto campus to attend a wide range of courses covering subjects from poetry to forensic anthropology.
A highlight this year is a series of five lecture-performances to celebrate the centenary in 2010 of UCT's South African College of Music. Titled A Century of Music-Making: The South African College of Music at 100, the course features performances by a number of renowned musicians, including Virginia Davids, Francois du Toit, Andrew Lilley and Dizu Plaatjies, and composer Hendrik Hofmeyr.
Former Minister of Public Enterprises, Alec Erwin, will co-ordinate a series of lectures on the challenges facing developing nations. Novelist and playwright Professor Jane Taylor will host a course on the Handspring Puppet Company; and Emeritus Professor David Wolfe will examine Isaac Newton, his enemies and the 'Scientific Revolution'.
Director of UCT's Centre for Extra-Mural Studies, Medee Rall, says this year's Summer School is expected to attract about 2 500 students and around 7 000 registrations for the 50-plus courses on offer.
Although the programme is different every year, says Rall, a number of lecturers and subjects have become Summer School regulars. Edward Saunders marks his 22nd year on the programme with a course on Roman art, which is already fully booked.
Dr Kenneth Hughes, recently retired from UCT's Department of Mathematics and Applied Mathematics, is famous for his expertise in 'obscure' subjects. This year, he tackles revolutions and their impacts on our world.
"The Summer School serves to showcase academics and their research interests to many who would otherwise not have access to their expertise in a wide range of unusual subjects," says Rall.
The UCT Summer School 2011 runs from 17 to 28 January. For the full programme and booking information visit the website.
---
This work is licensed under a Creative Commons Attribution-NoDerivatives 4.0 International License.
Please view the republishing articles page for more information.
---