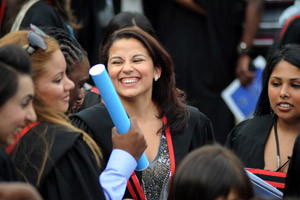 The December 2010 graduations are hitting its stride, with three ceremonies under the belt and another two lined up for today, Friday, 17 December.
The Faculty of Health Sciences kicked off proceedings on Wednesday when it capped its undergraduate COHORT. At that ceremony, the faculty also toasted its own Professor Dan Stein, who was named a UCT Fellow earlier this year. In addition, UCT formally presented the 2010 Distinguished Teacher Awards to the faculty's Professor Roland Eastman and Professor Zephne van der Spuy.
On Thursday, 16 December, it was the turns of the Faculties of Humanities (in the first of its four ceremonies over graduation week) and Science (first of two) to cap the studies of some of their graduates. At the science faculty ceremony yesterday afternoon, Professor Timothy Egan was officially welcomed as a UCT Fellow.
This morning, the Faculty of Engineering & the Built Environment - in the first of its three ceremonies - will confer degrees on all undergraduates and postgraduates from its built-environment programmes. In turn, the Faculty of Commerce will host the first of its ceremonies this afternoon, graduates from the business science programmes receiving their qualifications.
Saturday, 18 December, will see the Faculties of Humanities, Commerce and EBE take charge of the day's three ceremonies.
Jolly good fellow: Vice-chancellor Dr Max Price (left) welcomes Prof Dan Stein into UCT's College of Fellows.
Into the fold: Prof Timothy Egan was also formally introduced as a UCT Fellow.
Outstanding: Prof Roland Eastman received rapturous applause when he stepped up on the stage to receive his Distinguished Teacher Award.
Class act: Prof Zephne van der Spuy was the second of the 2010 Distinguished Teacher Awards recipients to hail from the Faculty of Health Sciences.
View the graduation ceremony video clip.
---
This work is licensed under a Creative Commons Attribution-NoDerivatives 4.0 International License.
Please view the republishing articles page for more information.
---