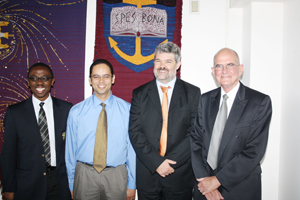 New ground: Dr Neil Hendricks (second left), the first Life Healthcare Electrophysiology Fellow, is congratulated by (from left) Prof Bongani Mayosi, Peter Scott and Prof Patrick Commerford.
Cardiologist Dr Neil Hendricks of the Division of Cardiology has been appointed as UCT and Groote Schuur Hospital's first Life Healthcare Electrophysiology Fellow.
The fellowship paves a path for the training of cardiologists in diagnosing electrophysiological conditions of the heart, and performing surgery on local patients suffering from such diseases. Electrophysiology, the fastest growing area of cardiology worldwide, relates to rhythmic disorders of the heart, or arrhythmia, a group of conditions characterised by abnormal electrical activity in the heart.
"These diseases require a range of interventions, from pacemakers to implanted defibrillators, and the establishment of this fellowship is a first step towards training a number of cardiologists in South Africa who would otherwise have to be taught abroad," Hendricks explained.
Up to now, such programmes have only been offered overseas, an arrangement that often seduced cardiologists to remain abroad upon completion, and thus contributed to the country's brain drain.
Under the tutelage of Professor Andrzej Okreglicki, who trained in the US and the UK before returning to Cape Town to share his expertise, Hendricks will spend two years honing his skills in electrophysiology.
Hendricks added that, in addition to his clinical work, he will also be undertaking research on arrhythmogenic right ventricular cardiomyopathy, and teach both undergraduate and postgraduate students.
Life Healthcare has provided R1.2 million over two years for the fellowship, with the balance coming from the Facilities Board of Groote Schuur Hospital.
Peter Scott, general manager of Life Healthcare, noted that the fellowship aims to secure the sustainability of healthcare in South Africa.
"In order to ensure that medical expertise remains in South Africa, a substantial part of the fellowship agreement is that the incumbent agrees to work either in a South African government facility, or Life private hospital, for a period of two years after the end of the programme," Scott said.
And that's no problem for Hendricks, who was quick to confirm that his future plans involve a South African academic institution and a lot of research and teaching.
---
This work is licensed under a Creative Commons Attribution-NoDerivatives 4.0 International License.
Please view the republishing articles page for more information.
---