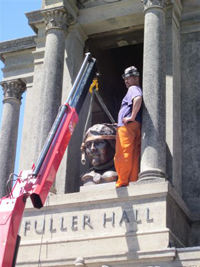 Figurehead: A bust of Maria Emmeline Barnard Fuller has been unveiled in front of the main façade of Fuller Hall.
Something of an enigma in UCT's history, Maria Emmeline Barnard Fuller is the name behind Fuller Hall, but she is almost never referred to by her full name - and popular knowledge of her life seems to suggest that she lived vicariously through her more prominent husband.
But now the woman known only as 'Mrs Fuller' has come into the limelight following the recent placement of a bust in her honour, commissioned by UCT's Works of Art Committee and created by sculptor Delise Reich. The bust now stands in front of the main façade of the women's residence Fuller helped establish and which now bears her name.
Born Maria Emmeline Buchanan in Cape Town in 1869, Fuller was one of the first four women students to enrol at the South African College in 1886 for her matric and teacher's certificate. The four were allowed to register for chemistry only; it was only in the following year that women were admitted to all classes.
In 1893 she married Dr Edward Barnard Fuller, a consultant at Somerset Hospital and part-time medical officer for the City of Cape Town, who later became chairman of the University Council (1938-1945). Fuller was instrumental in establishing Arthur's Seat (a residence for women students of the South African College) in 1907, and served on the house committee for five years until a warden was appointed.
After the South African College officially became UCT on 2 April 1918, Fuller was a member of the Provisional Committee appointed to oversee the development of the new Groote Schuur campus. In the same year she was one of two women appointed to the newly constituted University Council.
Opened in 1928, the women's residence was renamed Fuller Hall in 1950 in recognition of her contributions to UCT. In the same year UCT awarded Fuller an Honorary Doctorate of Laws.
As founder member and first president of the National Council of Women, and dedicated to promoting education and the enfranchisement of women, Fuller was awarded the George V Silver Jubilee Medal in 1935 for more than 40 years of public service.
Fuller died in 1957.
---
This work is licensed under a Creative Commons Attribution-NoDerivatives 4.0 International License.
Please view the republishing articles page for more information.
---