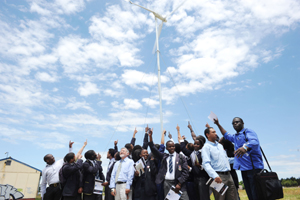 Sustainable power: Members of the UCT IEEE and learners of Oaklands High School and Oude Molen Technical High celebrate the installation of a wind turbine and solar panels at Oaklands.
The learners may only be in grade10, but they spoke on the importance of wind turbines as a renewable energy source as if they were experts on the topic.
"Wind is free, less harmful, and sustainable, and there is a lot of wind in Cape Town," said a confident Kuhle Mbewu of Oaklands High School in Lansdowne, when the UCT student branch of the Institute of Electrical and Electronics Engineers (UCT IEEE) unveiled a hybrid renewable energy installation - combining wind and solar power - at the school on 2 November.
The learners' expertise also had something to do with the programme UCT IEEE had been running over the past two years, teaching the basic principles of electrical engineering to grade 10 learners. The project began at Thandokhulu and Westerford high schools in 2009, and moved to Oaklands and Oude Molen Technical High in Pinelands this year. The project formed part of the UCT IEEE's Engineering Projects in Community Service with High Schools (EPICS-High) initiative. EPICS-High is a global IEEE project that sees student branch members, such as the UCT IEEE, team up with high school learners to engage in community outreach projects.
Student Nana-Ampofo Ampofo-Anti, project manager for the UCT IEEE's Projects Committee, the team that managed the project, said the project's ultimate aim is to establish a new 20-machine computer lab at an under-resourced school, using computers donated by the Faculty of Engineering & the Built Environment.
"One of our goals is to increase access to information and educational tools in under-resourced schools, expose high school learners to engineering as a possible career path, and to encourage them to be innovative," Ampofo-Anti explained.
At this stage, the hybrid renewable energy supply, consisting of a wind turbine and four small solar panels that were installed by contractors hired by the UCT IEEE, feeds power to the school's administration block. Once the school's revamp is completed next year (the government has approved a reconstruction to replace the asbestos structure), the wind turbine and solar panels will supply power in tandem with the school's main electrical supply to the new computer laboratory.
This will reduce the total power the school consumes from the city's electrical network.
Learners from Oaklands and Oude Molen designed models of the project that will be kept at the two schools. They will act as simple experimental facilities to illustrate the operation of wind turbines.
---
This work is licensed under a Creative Commons Attribution-NoDerivatives 4.0 International License.
Please view the republishing articles page for more information.
---