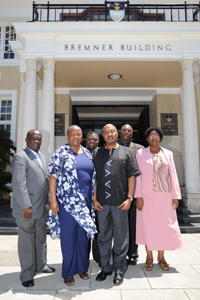 Venda visitors: (From left, back): Venda University's Professor Agyapong Gyekye, Reuben Mukhavhuli, Dr Clever Ndebele, and Bevlyn Dube. (Front) Professor Xikombiso Mbhenyane and UCT's DVC Prof Nhlapo.
UCT hosted a delegation of five from the University of Venda in November, led by the deputy vice-chancellor (academic) Professor Xikombiso Mbhenyane. Other members included Professor Aninemias Gyekye (dean of the School of Management Sciences), Dr Clever Ndebele (head of the Centre for Education Teaching and Learning), Bevlyn Dube (Media Studies Department) and Reuben Mukhazuhuli (project manager of the DVC Academic Office).
The visit was a culmination of early conversations between vice-chancellor Dr Max Price and his counterpart at the University of Venda, Professor Peter Mbati, followed by a visit by UCT deputy vice-chancellor Professor Thandabantu Nhlapo to Thohoyandou for the installation of the University of Venda's vice-chancellor.
During these engagements, UCT mooted the idea of a partnership between the two universities to further various mutually beneficial projects.
Nhlapo hosted the visiting delegation over two days, during which time meetings were held with their counterparts in the Centre for Higher Education Development, the Institutional Planning Department, accounting, media studies and the Research Office. The delegation explored links in all of these areas, especially with respect to academic development, quality assurance and community engagement. They also discussed support in various disciplines, notably accounting and film and media.
"The conversations ranged from issues of PhD training and student exchange, to assistance and support for our postgraduate students undertaking research in rural Venda," said Nhlapo. "There is a lot that we can do together."
Work has begun on concrete plans for some of these collaborations to take off fully in 2011.
"UCT is committed to playing its part in sharing capacity within the sector, a message recently reinforced by the Minister Dr Blade Nzimande on his recent visit to the campus," Nhlapo added. "The relationship with the University of Venda is an important aspect of this commitment. Afropolitanism starts at home.
Nhlapo praised his UCT colleagues for the warm welcome they extended the Venda delegation.
---
This work is licensed under a Creative Commons Attribution-NoDerivatives 4.0 International License.
Please view the republishing articles page for more information.
---