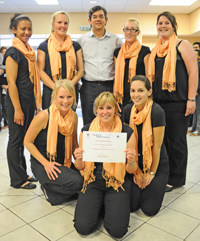 Neck and neck: Prof Greg Hussey with the colourfully attired physio team that took a second prize at the Faculty of Health Sciences' undergraduate research day: (back row, from left) Carlyn Rose Richards, Bridget Clayton, Susan Hutchison and Janine Victor; and (front row, from left) Robyn Blake, Charlene Marshall and Bryony McDonald.
The Faculty of Health Sciences takes its research seriously. So while others may perhaps only plug their graduate research, the faculty likes to throw the spotlight its younger researchers as well, as it did at its Undergraduate Research Day on 21 October.
The faculty has customary research blocks for all its undergraduate degree programmes. There's a Special Studies module for all students in second year; the fourth-year medicine students have Health Promotion, Public Health and Epidemiology research projects to complete; and the health and rehabilitation students (in the four-year audiology and speech-language pathology, occupational therapy and physiotherapy programmes) do a research project in their final year.
"It's about encouraging a culture of enquiry," says Associate Professor Gonda Perez, deputy dean: undergraduate education.
At the research day, the students presented their projects to a panel of judges - made up of faculty members - via either a poster or an oral presentation. Topics ranged from stuttering, teenage pregnancy and post-exercise stretching to anaemia, myringoplasty (repair to the ear drum) and pre-teen street play.
In the end, the judges awarded the first prize of R4 000 for the best oral presentation to Daniel Nel and Jonathan Vogel(pictured below) for their work on renal transplants and the database that sprang out of their research. Juanita Becker won the second prize of R3 000 for her retrospective analysis of myringoplasties performed at Groote Schuur Hospital. And a team of seven physiotherapists took the third prize of R2 000 for a study of the effects of stretching on recovery from exercise-induced muscle damage (there is no effect, they found.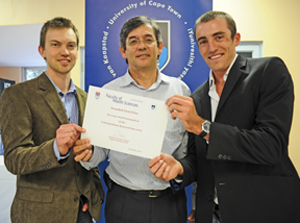 First class: Daniel Nel, Prof Gregory Hussey (middle) presents prize for best oral presentation to Danie Nel (far left) and Jonathan Vogel, at the Faculty of Health Sciences' undergraduate research day.
In the poster section, a second team of seven physiotherapists, who looked at active versus passive warm-up on exercise performance, walked away with the R3 000 first prize. Medicine student Simon Mendelsohn, for his study of student-run free clinics, and a team of five occupational-therapy students - who conducted a study on street play among pre-teens in Belhar - took joint second place, splitting a combined purse of R3 000.
"I think research does help students to think critically," says Professor Greg Hussey, deputy dean for research in the faculty and one of the judges for the occasion. "It makes them think about evidence; how to use and interpret information - I think it's critical for their undergraduate studies and their careers."
---
This work is licensed under a Creative Commons Attribution-NoDerivatives 4.0 International License.
Please view the republishing articles page for more information.
---