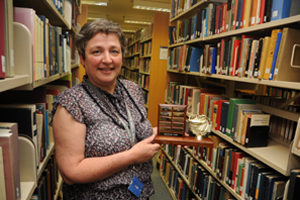 Ingrid Thomson's contribution to South Africa's library profession could be described as "making the circle bigger".
A librarian with the Humanities Information Division at UCT's main Chancellor Oppenheimer Library, Thomson has dedicated herself to finding new ways to inform, educate and broaden the interests of her colleagues throughout the country. This has earned her the prestigious Library and Information Association of South Africa (LIASA) Western Cape Librarian of the Year award. She also finished third nationally, and received R10 000 from Sabinet towards professional development.
Thomson has won several grants to attend national and international conferences before. These include the Ebsco-LIASA grant to attend the International Federation of Library Associations Conference in Glasgow, and the South African Library Leadership Programme, a LIASA Carnegie/Mellon-funded programme that took her to the US for two months.
"I have shared the experiences and knowledge gained on those trips with others, in the hope that they too will share further," she said.
Thomson has served as public relations officer and treasurer for LIASA, and continues to work on the organisation's LIASA-in-Touch magazine.
She is passionate and enthusiastic about the role that librarians can play.
"What is particularly rewarding is when you see other colleagues take what you have offered, shared, and run with it from there," she explains.
---
This work is licensed under a Creative Commons Attribution-NoDerivatives 4.0 International License.
Please view the republishing articles page for more information.
---