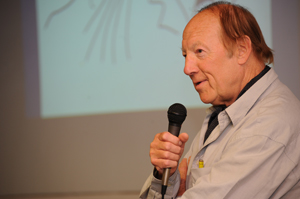 Rethink wisdom: Dr Charles Boelen posed some questions around social responsibility to those attending the annual Van den Ende Memorial Lecture.
From the start of his Van den Ende Memorial Lecture on 4 October, Dr Charles Boelen made it clear that he would not answer the question posed in the title of his talk - Social Responsibility: A new paradigm of excellence?
Rather, he suggested that it is time to rethink the wisdom passed on by the likes of Hippocrates and, more importantly, the foundation for modern-day medical education laid by American educator Abraham Flexner in his 1910 showpiece, the Flexner Report. As influential as these two fathers of medical education were, perhaps it is time to question the standards they set, suggested Boelen, an international consultant in health systems and personnel, based in France.
"I think we have to revisit what they have said and written, consider the way we play our role in society, our expectations, and the challenges that we have to face as health people," he said.
Medical schools have to reflect on their social accountability, which the World Health Organisation defines as "the obligation to direct their education, research and service activities towards addressing priority health concerns of the community, region and/or nation they have a mandate to serve".
And incorporating such social accountability into its curriculum in no way detracts from the quality of a school's education, said Boelen. On the contrary, tools such as the conceptualisation-production-usability model - or CPU model - ensure the quality of that education.
Bringing up a sketch, The Stone Bench in the Garden of Saint-Paul Hospital by Vincent van Gogh, Boelen encouraged health professionals to - like Van Gogh when he first found the bench at the psychiatric hospital where he had been confined - "to sit, interact with others and discuss".
The Faculty of Health Sciences hosts the annual lecture in dedication to UCT alumnus and (later) professor of bacteriology, Marinus van den Ende (1912-1957), considered one of the country's most outstanding medical scientists. As has become her custom, Van den Ende's widow, Joan, now 95, attended the lecture.
---
This work is licensed under a Creative Commons Attribution-NoDerivatives 4.0 International License.
Please view the republishing articles page for more information.
---