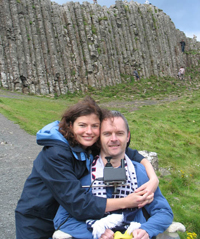 Authors abroad: Emma and Vic McKinney, who presented papers at the Inclusive and Supportive Education Congress at Queens University, Belfast, Ireland.
Postgraduate student Emma McKinney and her husband, UCT alumnus Vic, recently presented papers at the Inclusive and Supportive Education Congress at Queens University, Belfast. The theme of the conference was promoting diversity and inclusive practice.
Emma submitted a paper reflecting on her personal experiences of educating people with disabilities in South Africa. Vic submitted a paper on challenges South African children with intellectual disabilities face when moving from primary to high school.
Vic, who has an MPhil in Disability Studies from UCT, was also interviewed by the Belfast Telegraph who wrote a three-page article about his life and studies as a quadriplegic, a result of injuries sustained in a freak road accident that killed his father, Irish national footballer Vic McKinney senior.
Vic is a talented painter, a hobby that stems from his years as a Michaelis Fine Art student before his accident. He was also a UCT first-team soccer player.
Both Emma and Vic's papers were accepted and it was a matter of getting the funds together to make the trip to Belfast a reality.
"We were very fortunate to get generous sponsorship from the Postgraduate Office at UCT; Reinette Popplestone, the director of the Disability Service at UCT; and deputy vice-chancellor Professor Danie Visser," said Vic. "We also received funds from the Rotary Club of Rosebank (Jhb) and sponsorship of our congress registration fees from the Academic Committee of Queens University."
On arrival at the university the pair was struck not only by the beauty of the campus but also by how accessible everything was.
"It was wonderful to see how accessibility rights for people with disabilities had been embraced," said Vic. "The conference itself was incredible. There were delegates from 35 countries participating and they covered a wide spectrum of topics. It was often a tough decision to know which talk to go to, to choose between support for disabled students in America or experiences of autism in Italian primary schools, for example.
"We were exposed to a wide range of ideas and perspective and innovations from different countries from all over the globe."
They were also approached by three educational journals and asked to submit articles for publication.
"We made many contacts and friendships from like-minded people internationally."
Vic also visited his father's home town after so many years since his passing, and caught up with family.
(The Belfast Telegraph article can be viewed here.)
---
This work is licensed under a Creative Commons Attribution-NoDerivatives 4.0 International License.
Please view the republishing articles page for more information.
---