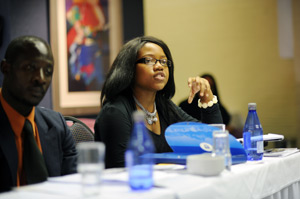 Valuable experience: SRC president for 2010/2011, Amanda Ngwenya.
The three top spots on the new Students' Representative Council for 2010/2011 have gone to women. Monday Paper met SRC president Amanda Ngwenya, and her two deputies: Kathleen Taylor and Jessica Price.
Amanda Ngwenya admits that her vision for the 2010/2011 Students' Representative Council (SRC) could land her in hot water with some students. But she is determined to stand her ground.
Ngwenya, who was elected as the SRC president, is inspired by people who can stand by their convictions. Her parents probably know that better than most. They wanted her to study medicine, but she has chosen a career in politics instead.
She joined the Democratic Alliance Student Organisation (DASO), a decision that raised eyebrows in her circles as many black South Africans, she says, are ignorant about what the Democratic Alliance can offer all South Africans Ngwenya, who hails from KwaZulu-Natal, served as the vice-president: external in the 2008/2009 SRC. She brings valuable experience to the student body. She believes that the SRC should not be burdened by administrative functions like services to students, as there are departments that handle those aspects of student life.
"If the departments are failing, the SRC shouldn't attempt to provide those services, but should ensure that those departments pull their weight."
She intends to push for the development of a policy agenda, with the help of external experts, which will carry the ideological position of the SRC on various issues.
Issues regarding student services have been the same in the past 20 or 30 years, and the SRC will not leave a legacy through them, Ngwenya argues. The only lasting legacy is through the ideas that shape the institution's values and which will, in turn, guide it into the future.
Her team will continue to stand for students' needs, and will fight for fee increases that are justified, but balanced against the university's need to maintain UCT as a leading institution.
---
This work is licensed under a Creative Commons Attribution-NoDerivatives 4.0 International License.
Please view the republishing articles page for more information.
---