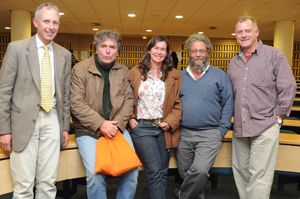 Green knowledge: (From left) Nigel Dorward, Rob Small, Monica Graaff, Michael Back, Peter Johnston.
"One of our concerns is exploring ways in which we think about security, govern it and manage our risks," said Professor Clifford Shearing, head of UCT's Centre of Criminology, at the first seminar in the Changing Lives: Agricultural practices series on 5 August.
"Our environment, which has been so crucial to sustaining us, is changing in a way that threatens our security. As a consequence, we are being presented with a whole new series of risks that are requiring us to rethink the nature of our security and how it can be preserved."
Shearing introduced four speakers who presented diverse and often conflicting views on possible agricultural responses to climate change.
First up was Dr Peter Johnston of UCT's Climate Systems Analysis Group, who effectively debunked the myth that climate change is a "hoax", with hard facts and statistics.
"Yes, there are natural cycles of change," he said, "but nobody can explain this level of change. Temperature is now increasing at such a rate that the warmest 12 years we've had all fall within the last 20 years.
"However," he concluded, "we don't know what climate change is going to look like. We can only act when we understand the full picture."
Rob Small of Harvest of Hope, an organic urban farming project, said participating small farmers have shown that it's possible to produce an abundance of food on miniscule plots of beach sand in bad weather conditions.
"So we don't worry about climate change. Vegetables are easily grown and we can live without fancy fruit."
Small argued that modern agriculture is only concerned with money, and not with feeding the world.
"But there doesn't have to be hunger," he said. "All we have to do is convince you that it's a good idea."
Nigel Dorward of the Better Trading Company explained how they act as an ethical agent for entrepreneurial farmers in Africa, connecting them with business interests in the rest of the world, as well as offering training, technical assistance and support.
"We use natural assets such as fynbos and turn them into a viable resource," said Dorward. "Despite climate change, fynbos should still be here for a long time to come."
The final speaker was Michael Back of the Backsberg Winery, who expressed the view of modern farmers: "I want to be sustainable, but I also want to be profitable. Of course most professional farmers want to behave responsibly, but that responsibility comes at a cost."
From this perspective, Back was sceptical of green initiatives. "This whole process of being sustainable and reversing urbanisation? Forget it. It's not going to happen.
"But people aren't interested in numbers, they're interested in emotions, so we have to change our mindsets. But that's in the hands of the shrinks, not the scientists."
---
This work is licensed under a Creative Commons Attribution-NoDerivatives 4.0 International License.
Please view the republishing articles page for more information.
---