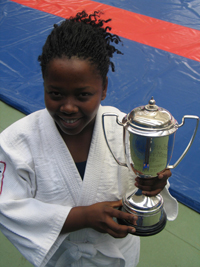 Sterling performance: Thakane Ntholi (in picture) scooped the Best Newcomer Ju-Jitsuka award, conferred by the UCT Ju-Jitsu club. Other winners were Muya Koloko (best UCT Ju-Jitsuka), 2nd Dan black belt; Kate Davies (best female Ju-Jitsuka); and Graeme Paul (best pupil), orange belt.
At the ripe age of 34, the UCT Ju-Jitsu ('gentle art') club is thought to be one of the oldest martial arts clubs on campus - and is still going strong.
With 70 members, some of whom have represented the club internationally, the club teaches Japanese martial arts.
Ju-Jitsu was used by ancient samurai warriors and despite its pre-industrial origins, it has practical applications in the modern world. Its principles are used in training police and military unarmed combat units.
Sindy Tu, chairperson of UCT Ju-Jitsu, says the club focuses on unarmed, close-contact self defence, using throws, takedowns, locks and the like. "We also include basic grappling (wrestling) techniques."
It's a valuable skill, she adds. "I believe that people, especially women, should have some basic defence skills to be able to manage dangerous situations."
Recently, UCT Ju-Jitsu hosted the 50th anniversary celebrations of the Tokyokai Ju-Jitsu Club, their parent body. The event was attended by renowned international guest instructors, including the head of the All Japan Ju-Jitsu International Federation and 10th-Dan black belt, Alexey Kunin from the US, as well as Sorab Mowlabucus, visiting 7th-Dan black belt from Mauritius, who shared their techniques and knowledge.
Included in the celebration was a prize-giving that saw UCT students heaped with awards from the South African Ju-Jitsu Association.
---
This work is licensed under a Creative Commons Attribution-NoDerivatives 4.0 International License.
Please view the republishing articles page for more information.
---