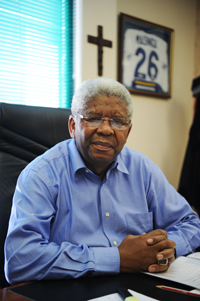 Coming back: Variety - including his duties as chair of UCT Council - adds spice to the day of Archbishop Njongonkulu Ndungane.
Archbishop Njongonkulu Ndungane has a soft spot for institutions of learning.
For example, since 2006 he has been the appointed 'Champion' and executive director of the Historic Schools Restoration Project. That is a government-endorsed initiative to transform, as the project's strapline goes, "historically significant and under-resourced schools in South Africa into sustainable and aspirational centres of cultural and educational excellence".
The project targets around 50 such historic schools in the country that have produced leaders who have made significant contributions, not only to South Africa but also to neighbouring countries. (For example, almost the entire first cabinet of Botswana were students of Tiger Kloof in the Northern Cape.) One of these schools is Ndungane's own Lovedale High School in Alice, Eastern Cape, now the Alice campus of the Lovedale Public Further Education and Training College.
"Before apartheid, education was run by the churches," says Ndungane. "When apartheid came, it destroyed significant institutions of learning that our greatest leaders attended."
There's a direct relationship between that project and his 'voluntary' service as chairperson of UCT Council, notes the archbishop. It's all about serving the needs of the country.
"Being of service to the nation through the university is the greatest contribution I can make at this time in my life. We should be making a significant contribution to the development of minds, which will bring lasting solutions for the wellbeing of people."
His appointment as chair of Council in 2008 came just short of five decades after his first association with UCT. He studied here from 1960 to 1962, but it was his part in demonstrations against the Pass Law that sparked his interest in politics, which led to his imprisonment and, in turn, his move to the church. (He never got to finish his UCT studies, but holds a UCT degree - an honorary doctorate of philosophy awarded to him in 2003.)
These days, as chair of Council, he's come to appreciate the "complexity of university life", and loves sitting around the table debating issues with some "wonderful people", all experts in their own right.
"My job is just to bring things to order."
And lest anyone thinks that Council's only function is to rubberstamp issues, the group has often demonstrated that it won't brook slipshod work.
"We insist on excellence," says Ndungane. "If issues or documents have not been properly prepared, they're sent back to the drawing board."
Council duties add to the variety in his life, adds the archbishop, whose 'day job' - now that he's retired from the Anglican Church - is founding-president of the African Monitor, a pan-African, not-for-profit body that analyses international aid to the continent and how that aid benefits communities and individuals. He also serves as patron to countless organisations and institutions.
Regarding his service to UCT, he insists on only one thing - that meetings do not clash with any "religious services" at the Newlands rugby ground. He's a keen follower of the game, even though his loyalties are divided at times - his nephews, twins Akona and Odwa Ndungane, play for the Bulls and Sharks, respectively.
And while he agrees with Professor Tim Noakes that the South African side's performances against Australia and New Zealand in the Tri-Nations suggest that the players are tired (although he predicts a Bok win against the All Blacks at Soccer City later in the month), it would seem that his own multi-tasking is far from exhausting.
As for continued service on UCT Council, he'll cross that bridge when he gets there, he says.
---
This work is licensed under a Creative Commons Attribution-NoDerivatives 4.0 International License.
Please view the republishing articles page for more information.
---