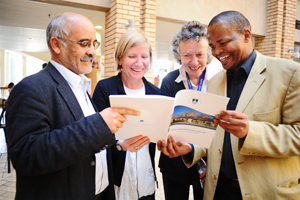 Hot press: (From left) DVC Prof Crain Soudien, Dr Janice McMillan, Judy Favish and Sonwabo Ngcelwana.
Following the recent publication of UCT's Social Responsiveness Report 2009, a selection of its authors presented talks on their work at a symposium on 30 September.
Introducing the speakers, deputy vice-chancellor Professor Crain Soudien, who currently holds the portfolio for transformation and social responsiveness, said that in defining social responsibility, UCT had set broad parameters rather than take a narrow approach, that might exclude certain aspects of the issue.
Dr Janice McMillan of UCT's Centre for Higher Education and Development delivered a presentation In Search of Service Learning's Role in Social Responsiveness at UCT, a paper written with Dr Seth Pollack of the California State University in the US. McMillan stressed the importance of transforming teaching and learning practices in higher education so that they reflect the realities of their location.
Judy Favish, director of UCT's Institutional Planning Department (IPD), spoke on the state of social responsiveness at the university and the challenges to be faced, such as sustainable funding, encouraging student support and establishing international links.
Produced by the Social Responsiveness Unit in the IPD, the report includes a foreword by vice-chancellor Dr Max Price, who describes it as providing "reflections on impressive examples of socially responsive practise and initiatives across a wide range of faculties, departments and units".
"It proves that at UCT we can be proud of our record of engagement with society at large and our support to the many and varied communities with which our staff and students engage."
---
This work is licensed under a Creative Commons Attribution-NoDerivatives 4.0 International License.
Please view the republishing articles page for more information.
---