In partnership: Lori Lake (commissioning editor, Children's Institute) Charmaine Smith (communication and knowledge manager, Children's Institute) Prof Maurice Kibel (Emeritus Professor of Child Health, UCT) Prof Shirley Pendlebury (director, Childrens' Institute) and Malathi Pillai of UNICEF South Africa at the launch of the South African Child Gauge 2009/2010.
The South African Child Gauge 2009/2010 can probably be summed up as a damning report on the state of health of South Africa's young.
The Gauge is an annual publication of the Children's Institute at UCT, and aims to track and report the situation of the country's children. This latest edition - the fifth issue in the series - focuses on child health. (Previous editions covered education, social services, child poverty and HIV/AIDS).
The report notes that, although South Africa is a middle-income nation, it ranks among the 12 worst countries in the world to have failed to reduce child mortality since 1990. In fact, says the Gauge, the mortality rate for children under five in South Africa has risen from 56 deaths per 1 000 live births 20 years ago, to 67 in 2008, according to modelled estimates by the United Nations Children's Fund (UNICEF).This has been attributed to the HIV pandemic, poor nutrition and living conditions, as well as a deteriorating health care system.
This indicates that the country is lagging behind the Millennium Development Goal to reduce under-five mortality by 2015. South Africa is also not on track to meet other MDG goals aimed at reducing poverty, hunger and disease.
But there is a light at the end of the tunnel.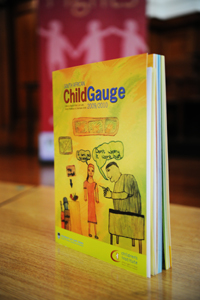 At the launch of the 2009/2010 issue (pictured on the left), Malathi Pillai, UNICEF's deputy representative for South Africa, applauded the government's decision to overhaul the health system, and said the report is a call to everyone to work harder and ensure that the country's resources are used to deliver concrete results for children and mothers.
"We need to collect the right data, analyse it and use it to influence policies, and ensure that it reaches end-users, the community workers," she explained. "We need to unpack the robust government policies and its robust plan of action."
Launched on 27 July, the edition was penned by child health experts from different universities, NGOs, international agencies, with the Minister of Health, Dr Aaron Motsoaledi also contributing.
Deputy vice-chancellor Professor Jo Beall said the report exemplifies UCT's commitment to socially responsiveness research, and is a case in point of scholary research that is presented in an accessible format to a broader audience.
Read the full publication.
---
This work is licensed under a Creative Commons Attribution-NoDerivatives 4.0 International License.
Please view the republishing articles page for more information.
---