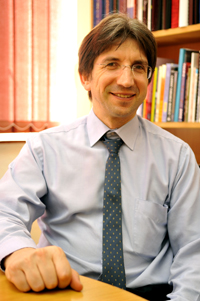 Winning ethics: Professor Dan Stein is the winner of the CINP Ethics Prize in Psychopharmacology.
The world's largest global psychopharmacology organisation, the Collegium Internationale Neuro-Psychopharmacologicum (CINP) has awarded its CINP Ethics in Psychopharmacology prize to Professor Dan Stein, head of UCT's Department of Psychiatry and Mental Health.
Stein, who also received the prestigious Alan Pifer Research Award this year, will be presented with the CINP prize in Hong Kong, China, for his work on the philosophy of psychiatry and psychopharmacology. Stein has published a range of articles on the subject, and his recently-released book, Philosophy of Psychopharmacology, is arguably the first extended text to focus on the intersection between philosophy and psychopharmacology.
As the founding editor of Philosophy, Ethics, and Humanities in Medicine, one of the first open-access academic journals in the field, Stein helped encourage interest in this area from readers around the world.
With his colleagues, Stein collected some of the only empirical data available on psychiatric disorders in those who testified before the Truth and Reconciliation Commission (TRC). This work argued that although the TRC may have had certain benefits, it did not mean that provision of clinical care for psychiatric disorders in survivors of gross human rights violations during apartheid could be ignored. Recently, Stein and colleagues published findings from a national survey of attitudes towards the TRC.
"Advocating for equitable resources for psychiatry, whether in services, teaching, or research, is not always a successful process, so this encouragement is welcome," said Stein.
---
This work is licensed under a Creative Commons Attribution-NoDerivatives 4.0 International License.
Please view the republishing articles page for more information.
---