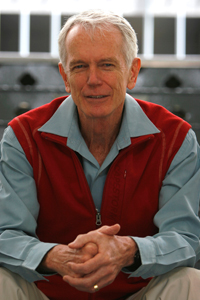 Health tender: Prof Norman Faull, head of UCT's Lean Institute Africa.
The Lean Institute Africa (LIA) at UCT's Graduate School of Business (GSB) has been awarded a tender by the National Department of Health to do 18 best-practice workshops in priority health districts across the country.
The workshop programme is the first step in creating a continuous process-improvement approach in public healthcare, according to institute head Professor Norman Faull.
"This is an ambitious endeavour with ambitious possibilities," he said. "I also believe this is a great opportunity for internationally significant cutting-edge research."
The Lean Institute Africa (LIA) will run week-long best-practice workshops at health facilities in several of the priority health districts in South Africa, after the final game of the soccer world cup. The contract will run until the start of October.
LIA research associate Chipo Mupure says that Faull has been championing the Lean cause and working with the Department of Health for a number of years.
"One of our more recent projects at a Northwest Province hospital drew a lot of attention," says Mupure. "We reduced outpatient waiting times by 84% and were then invited to run a few more workshops. That gave us a platform to apply for this tender."
She adds that this is the biggest development since the creation of the Lean Institute Africa, and that there is a growing body of evidence to prove the effectiveness of Lean in the South African public sector.
"The only way to convince people is through evidence, and we are making progress with each successful project."
---
This work is licensed under a Creative Commons Attribution-NoDerivatives 4.0 International License.
Please view the republishing articles page for more information.
---