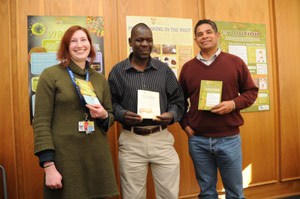 Pinups: With their winning posters are creators (from left) Gillian de Villiers (molecular and cellular biology), Shadreck Chirikure (archaeology), and Prof David Jacobs (zoology).
Thousands of edu-taining posters and flyers are part of UCT's Faculty of Science's contribution to this year's National Science Week, which takes place from 2 to 7 August.
The three posters, targeting mainly primary school learners, are fact-filled, full-colour sheets on the themes The Secret Life of Viruses, Metal-Making in the Past, and Evolution: the Process of Natural Selection.
Posters were conceived, researched and written by science faculty staff, who seized the opportunity to wax creative in their respective fields of interest.
Some found it easier than others. For archaeologist Dr Shadreck Chirikure, his Metal-Making in the Past poster was plain sailing, as he had already written a book on the subject - namely, Indigenous Mining and Metallurgy in Africa, published by the Cambridge University Press. Chirikure says he was compelled to do the poster because so few South African learners realise that, although mining is so dominant in the country, there was a rich indigenous tradition in mining before industrialisation.
As well as the posters, a further seven glossy flyers, based on posters from previous Science Weeks, are targeted at an adult audience and will be distributed in public areas such as libraries and traffic centres.
The annual project started three years ago when the faculty produced posters for Western Cape schools. The initiative has become so successful that Science Week sponsors, the South African Agency for Science and Technology Advancement, extended the brief - and the budget - to include the whole country. The Faculty of Science will also be contributing to Science Week through teachers' workshops, conducted at the MTN Science Centre.
---
This work is licensed under a Creative Commons Attribution-NoDerivatives 4.0 International License.
Please view the republishing articles page for more information.
---