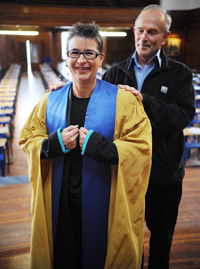 On stage: Prof Alison Lewis dons the University Orator's gown, which she is taking over from Emer Prof Francis Wilson.
Professor Alison Lewis doesn't like the colour yellow - at least, not in clothing. But the striking mustard-coloured gown is about the only gripe she has with the job of University Orator, which she will take on formally when she delivers the citations for UCT's five honorary graduates at the upcoming June graduation ceremonies.
Lewis is taking the other tasks in her stride - from the deep background research (she's a leading, internationally-rated scholar, after all) and the writing (she did her fair share of student and political tracts in the 80s) to the actual oration (okay, she has some pre-emptive stage jitters, but she found at a recent awards ceremony that she quite relishes the duties of an MC).
Lewis, head of the Crystallisation and Precipitation Research Unit in the Department of Chemical Engineering, is (at 47) probably among the youngest (if not the youngest) of the university's recent orators. She is also the first woman to be formally appointed to the position. (Although, reports Registrar Hugh Amoore, a few women have donned the gown on ad hoc occasions.)
Overall head count for orators is tricky to come by, but records show that the university has formally appointed four or five since the 1970s. Lewis is turning to the most recent in that line - her direct predecessor, Emeritus Professor Francis Wilson - for guidance and advice.
Wilson, 71, has had the job for the past four years; he figured it was time to pass on the gown, so he nominated Lewis for the position.
"I wanted the job to go to someone who's younger, and interested, and understands (especially) the scientific stuff," he says. "Also, as a woman she brings a different perspective."
Lewis is picking up a few tips from Wilson (always keep a glass of water to hand, for example!). Also, delivering the final citation is but "the tip of a very big iceberg", he says - it's all about finding as much information as possible, and then bringing it all down to a memorable citation. (Bonsai biographies, he calls them.)
Putting that lesson into practice for the first time can be demanding. Lewis, a keen part-time writer, had to dedicate most of a recent weekend to her first two citations. And she's learning that it's a far cry from the more formal, passive-tensed and technical writing she practices as an engineer.
"I think the goal is to create something that's serious and dignified, but also quirky and interesting and not boring," she says.
Just like that gown.
---
This work is licensed under a Creative Commons Attribution-NoDerivatives 4.0 International License.
Please view the republishing articles page for more information.
---