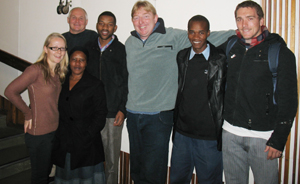 Happy times: (From left to right) Hayley Hilton (postgrad fundraising committee) Hazel Maposela (Emasithandane), Ian Corbett (guest lecturer), Mbuyisi Sithole(Emasithandane), Stuart Hendry (Lecturer), Michael Tladi (Emasithandane), and Nick Fenton-Wells (postgrad fundraising committee) at the handing over of the donation.
The determination to make a difference in people's lives has driven postgraduate students in UCT's Faculty of Commerce to raise thousands of rands for charity.
For three months, a group of 150 students cruised streets and malls fundraising sheets in hand, asking for R50 donations from individuals and organisations. In the process they have raised R55 000 for the Emasithandane Children's Project in Nyanga so far, and are still going strong, hoping to make R75 000 at the end.
The Emasithandane project is a home for orphaned and vulnerable children, and currently houses 40 children aged six months to 18 years. The money will go towards renovation work on the orphanage.
The fundraising project started when lecturer Stuart Hendry challenged his students to do something that will make a difference in this country, citing in his appeal the Dinokeng Scenarios. This is a set of possible scenarios for 2020 drawn up by a team of 35 civil society, business and government leaders, in which they ask citizens to contribute to change in the country. "They are citizens that don't sit back and wait for government but rather work together to create a better future for all," he explained to students.
---
This work is licensed under a Creative Commons Attribution-NoDerivatives 4.0 International License.
Please view the republishing articles page for more information.
---