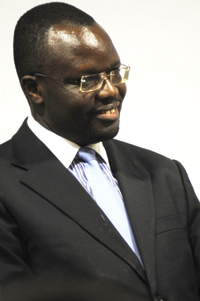 Talking change: Prof Venansius Baryamureeba, vice-chancellor of Makerere University in Uganda.
Lack of access to universities, undeveloped distance education programs and the shortage of resources and qualified staff are just some of the issues facing higher education in Africa.
This is the opinion of Professor Venansius Baryamureeba, the vice-chancellor of Makerere University in Uganda, who spoke at a public seminar on 21 April, titled Transformation of Universities in Post-Colonial Contexts, co-hosted by UCT and the Mail & Guardian. The seminar was part of Higher Education Minister Blade Nzimande's stakeholder summit on higher education transformation.
Baryamureeba said that Uganda, as a former British colony, had inherited its education structures and management models from its colonialists, and had remained unchanged even after Britain's structures had progressed.
He said that while Uganda's higher education institutions had increased dramatically in quantity, the country was now focusing on quality.
"We need to bring in qualified researchers to improve what we offer," said Baryamureeba.
But he also warned that curricula can't simply be copied from educational institutions in developed nations. "We have to customise our curricula, and ensure that what we are teaching is relevant to Uganda," he said.
Professor Catherine Odora-Hoppers of the National Research Foundation at UNISA argued that producing students who could attain wealth and status shouldn't be African universities' only concern; teaching ethical conscience and moral salience were key to creating a society in touch with its own humanity.
"Many African countries didn't opt for transformation after colonialism, but just doodled with reform. As a result, colours changed, but little else," she said.
Odora-Hoppers noted that addressing intergenerational pain and humiliation would allow for the ability to grasp the various moral contours of a problem.
"South Africa dealt with one of the most pungent forms of humiliation, but it doesn't offer a single course in humiliation studies," she said.
---
This work is licensed under a Creative Commons Attribution-NoDerivatives 4.0 International License.
Please view the republishing articles page for more information.
---