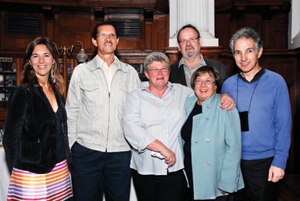 Celebrating the Health Economics Unit's 20th anniversary were director Dr Susan Cleary, Prof William Pick, Prof Di McIntyre, Dr Steve Taylor, dean of health sciences Prof Marian Jacobs, and VC Dr Max Price. (Pick, McIntyre and Taylor founded the unit.)
Health economics is more about saving and improving lives than about Rands and cents, Dr Susan Cleary said at the Health Economics Unit's 20th anniversary celebration last week.
Cleary is the head of the HEU, which is widely recognised as the leading health economics institution in Africa and one of the most well-established and respected medical units in low- and middle-income countries.
Initiated in 1990, the HEU used its research powers to advocate against apartheid in health care, and as a result, the ANC government welcomes HEU's research, Cleary said.
Its concern for equity in health and health care has continued, for example, resulting in research findings on HIV/AIDS being used to influence and even form the basis of government policy. Right now, key research by the HEU is playing an important role in the current debate on the National Health Insurance.
The health economists' slogan is 'health economics saves lives', said Cleary.
"While many think that health economics is only concerned with costs, it's really about finding ways to save more lives and improve health through the better use of the health care budget. The longevity of the HEU presents a unique opportunity to demonstrate the importance of health economics to health systems."
Professor Di McIntyre, one of the founders of the unit, added: "Without a shadow of a doubt, the HEU has contributed extensively to the development of health economics in South Africa and in Africa more generally."
Vice-chancellor Dr Max Price said he felt privileged to have seen the unit grow since its inception.
"Social responsibility is something UCT aims to instil in its students, academics and researchers alike," he said. "The HEU was founded on a commitment to social justice in health care in South Africa, and has affected millions of lives over the past 20 years. I am proud to congratulate the HEU on its many notable milestones, and I hope to see you grow for another 20 years at least."
---
This work is licensed under a Creative Commons Attribution-NoDerivatives 4.0 International License.
Please view the republishing articles page for more information.
---