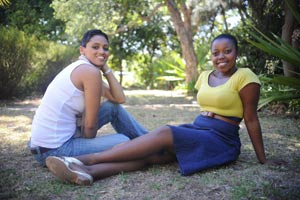 Jet-setters: Merlinda Abrahams and Ichumile Qada are at Albert Ludwigs Universität Freiburg in Germany as part of a new exchange programme.
Two social science students have jetted off to Germany for a semester in the first student exchange with the Albert Ludwigs Universität Freiburg.
Merlinda Abrahams and Ichumile Qada left on 8 April for their four-month stay at Freiburg, who, in turn, will send students to UCT in the first semester of 2011.
The exchange is part of the Department of Sociology's new master's programme in global studies, which covers disciplines ranging from sociology and anthropology to political science. It was developed by Professor Ari Sitas, a Fellow at Jawaharlal Nehru University, New Delhi and a Guest Professor at the Albert Ludwigs Universität Freiburg.
During their semester at Freiburg, Abrahams and Qada will complete four courses on subjects such as global theory, international relations, global trends and global anthropology.
After the semester, the pair will return to UCT to complete their theses.
The aim of the course is to enhance inter-cultural experience, enrich the understanding of social change in a globalising world, and to develop an understanding of the functioning of social institutions in diverse societies. Increasing the number of international opportunities for graduate students is also a key priority, reports the International Academic Programmes Office (IAPO).
This is the first overseas journey for Qada. Abrahams lived in Taiwan for a number of years teaching English.
"I'm looking forward to my first global learning experience," says Qada. "I hope to learn how things are done in another culture, so that I can compare it to my own culture at UCT."
---
This work is licensed under a Creative Commons Attribution-NoDerivatives 4.0 International License.
Please view the republishing articles page for more information.
---