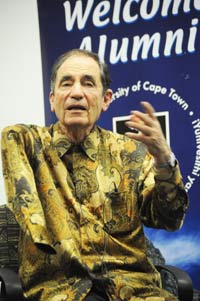 Man of integrity: Albie Sachs delivers a talk at a UCT Alumni Leadership Forum.
Joyous and exhilarating, but also exhausting, complicated and problematic was how retired Justice, Albie Sachs, described his 15-year tenure at the Constitutional Court.
Speaking at the Alumni Leadership Forum at UCT on 25 March, Sachs said that at times he cried because of the intensity of debates (prior to deciding on a case). "It was far more interesting, far more problematic than can be assessed from a reading of any specific judgement," he said.
His talk was based on his latest book, The Strange Alchemy of Life and Law, in which he gives an intimate account of his life and work as a judge in South Africa, mixing autobiography with reflections on his major cases and the role of law in achieving justice.
Introducing the evening, Professor PJ Schwikkard, dean of the Faculty of Law, referred to Sachs as a truly remarkable South African. "A central part of his entire life has been the struggle for democracy and he paid dearly for it - the horrors of lengthy periods of solitary confinement, the brutality of having his body damaged by a bomb and the deep sadness of losing friends and comrades who did not survive the apartheid state.
"Albie not only survived but he also won and consequently we have had the privilege of being served by him on the Constitutional Court from 1994," said Schwikkard.
Sachs took the audience back to his days at UCT. "I had a dilemma, in fact a "trilemma". Part of me was busy being one of the crowd, another part of me was absorbing the principles of law and, at night, I was a comrade operating underground in the black residential areas. In those days people didn't use phrases like 'rule of law and freedom', but were willing to give up their lives for justice," he explained.
"It was easy to 'lose' the superficial party person but it was not till I worked on the new constitution that the other two Albies, lawyer and activist, came together." (Sachs was pivotal in the initial research and drafting of the South African Constitution).
In writing the book two years ago, Sachs often asked himself the question as to the extent that the intensity of one's life experiences shape, influence and dictate the outcome of court decisions.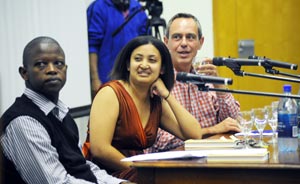 "It was not obvious that because you have suffered torture you automatically defend or oppose the rule of law. Colleagues with a totally different life experience to mine came to similar positions on the centrality of human dignity. Our conclusion was that integrity is the core of everything we do."
Responding to a panel question later, Sachs said democracy was a huge achievement for the country, and one that he believes is well entrenched. The event was closed with a panel discussion chaired by Judge Dennis Davis, where Abongile Sipondo, Meryl du Plessis ((lecturers in the Faculty of Law) and Professor Pierre de Vos, (above) and had an open dialogue with Sachs.
---
This work is licensed under a Creative Commons Attribution-NoDerivatives 4.0 International License.
Please view the republishing articles page for more information.
---