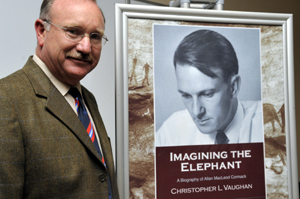 Page turner: Emer Prof Kit Vaughan at the launch of his award-winning book, Imagining the Elephant: A Biography of Allan MacLeod Cormack.
Kit Vaughan, emeritus professor of biomedical engineering and director of UCT spin-off company CapeRay, has won the UCT Book Award for 2010 for Imagining the Elephant: a Biography of Allan Macleod Cormack, his ode to the South African-born Nobel laureate.
Cormack, a 'lowly' UCT-trained physicist, was co-winner of the 1979 Nobel Prize in Physiology or Medicine for his computer-assisted tomography (CAT) scanner. His work also inspired a new generation of medical scientists, including Vaughan, who established a medical imaging research group at UCT in 2000, just two years after Cormack's death, in the latter's honour.
(And hardly a Monday Paper conversation with Vaughan went by without Cormack's name coming up.)
In the book, Vaughan writes about both Cormack the family man and how his discoveries changed the world. It was clearly a labour of love for Vaughan, who travelled to Boston, Scotland and England to flesh out his research.
"I am delighted to receive this recognition", said Vaughan, "particularly since it's for a genre (history of science) that's not exactly my research focus. I was also pleasantly surprised to discover that there were people who enjoyed reading the book!"
The UCT Book Award carries with it a purse of R30 000, which Vaughan will be donating to the Allan Cormack Book Fund, established by Cormack's family to enable science students from disadvantaged backgrounds to purchase text books.
The UCT Meritorious Award was presented to Associate Professor J Bennet for the book Porcupine, and to Professor M Adhikari for the work Not white enough, not black enough.
Professor F Langerman received the UCT Creative Works Award for Subtle Thresholds.
---
This work is licensed under a Creative Commons Attribution-NoDerivatives 4.0 International License.
Please view the republishing articles page for more information.
---