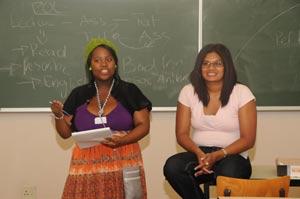 Orientated: Attending the Odyssey lectures are (from left) first-year student Siphumelele Khomo and wellness facilitator Carmelita Lee Shang.
Helping first-year UCT students adapt to academic life is the goal of the Student Development Programme, a new R500 000 initiative by Student Wellness, a unit in the Department: Student Affairs.
Taking part in the pilot programme are 65 fine arts and 40 geomatics first years, who will attend weekly lectures, facilitated by psychologist Kim Foster and social worker Carmelita Lee Shong, which will address common problems faced by students adjusting from a high school to a university environment. The lectures, titled Odyssey include issues such as time and stress management, and exam preparation and anxiety.
"All these factors can potentially affect academic performance," says programme co-ordinator, Kehiloe Ntsekhe of Student Wellness. "Our goal is to support first years in a non-academic way as they go through this transition."
Alongside this will be mentor training and support for the mentors of the first year students involved. The Student Development Programme is also involved in giving ad hoc workshops in different faculties and plans to give training and support to faculty staff involved in student support.
Funded through the vice-chancellor's strategic fund on transformation and basing itself on research undertaken by the Centre for Higher Education Development, the pilot programme will run throughout 2010. The programme will work closely with the working group set up by the Senate Academic Planning Committee to look into the First Year Experience for all undergraduate students at UCT.
Once complete, the programme's effectiveness will be evaluated using various tools to examine the effectiveness of the intervention. This evaluation and a clear indication of the future sustainability of the interventions will be the determining factors in the programme's future.
Read more information about Student Wellness services.
---
This work is licensed under a Creative Commons Attribution-NoDerivatives 4.0 International License.
Please view the republishing articles page for more information.
---