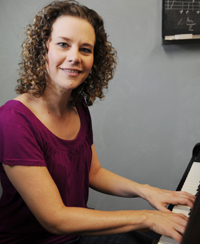 New kid on the block: Amanda Tiffin has been appointed as the head of the jazz programme at the South African College of Music.
As a young child, Amanda Tiffin used to play the part of 'teacher' when playing with her siblings, so her appointment as the new head of jazz vocals at UCT's South African College of Music (SACM) has brought her full circle.
Jazz sensation Tiffin started teaching part time in August 2009 at the SACM, and was appointed full time in January, taking the baton from Abigail Petersen, who has resigned to concentrate on her performing career.
"Teaching has always been something I love to do, and I'm excited to be at UCT to interact with students at tertiary level," Tiffin says.
That excitement is clear, as the versatile vocalist and pianist is already implementing changes in the way the jazz singing course is run. Before she took over the reins, jazz singers would have one 60-minute, one-on-one session with a teacher per week, while doing other subjects like jazz theory and history. All their singing was concentrated into that one lesson.
"And you can't really teach in much detail in one hour," Tiffin argues. "There is so much to teach in jazz singing, because you don't only need to help students with technique, but also concentrate on the style and improvisation and everything that comes with being a jazz vocalist."
So Tiffin has separated the practical course so students can still have the one-hour sessions, but each year-group now also has a jazz vocal technique class. In that class they will cover everything required to mould professional jazz singers, such as writing, arranging, performing and improvising.
"This means students are getting a lot more focused attention on jazz vocal, and I think that is going to have a big effect on the standard of singers that are leaving the college. That is the main aim."
Tiffin hopes this will hone another generation of students to follow in the footsteps of the likes of icons Jimmy Dludlu and Judith Sephuma. (Tiffin shared a stage with Sephuma when they were students at the college.)
Tiffin believes that since she graduated with a master's degree in vocal performance and jazz composition from the SACM in 1999, the jazz programme has improved "enormously". The programme also boasts a lot more students than 10 years ago.
Teaching also mean that Tiffin's days of performing at weddings and corporate functions are a thing of the past, and she will focus only on jazz gigs, something she is passionate about.
"I will perform less, but the performances I will do will be of high quality and more enjoyable to me."
---
This work is licensed under a Creative Commons Attribution-NoDerivatives 4.0 International License.
Please view the republishing articles page for more information.
---