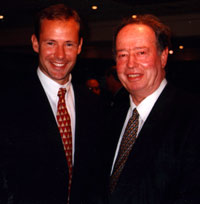 Budget brief: According to Emer Prof Brian Kantor (right), the recent budget speech bodes well for the country.
Bar a few swipes at the Reserve Bank and ESKOM - no one's favourite utility right now - Emeritus Professor Brian Kantor's review of the 2010/2011 national budget was a very upbeat one.
Speaking at a post-budget breakfast talk, hosted by the Graduate School of Business on 22 February, Kantor, emeritus professor at UCT as well an investment strategist and economist with Investec Private Securities, had plenty of praise for finance minister Pravin Gordhan and his budget speech. Coming in the wake of a severe recession, much was expected of the budget and the minister's response was a "sensible" one, said Kantor.
"The budget had to answer a number of questions. Not all these answers are popular with all quarters, but certainly the answers are clear enough and, I would say, very encouraging in general."
For one, the government is running a growing deficit of 7.3% of gross domestic product (GDP) as revenues are falling - tax revenue alone will be R69 billion short of last year's budget estimate - and spending is still on the rise. No wonder, then, that there were concerns that the state would raise taxes.
But it didn't. Instead, it has accepted that it would have to borrow more to continue its social spending, and government debt is expected to top R1 trillion over the next few years. That debt will amount to around 40% of GDP, which, while "uncomfortably high", is manageable, said Kantor. (And much better than the Americans and Greeks, where government debts stand at about 100% of GDP.)
The state will have to take some control over its expenditures, however, particularly its spending on government employees and their benefits, added Kantor.
One authority Kantor did target - other than ESKOM, making ever greater demands on consumers' wallets - was the Reserve Bank, particularly under former governor, Tito Mboweni. In particular, Kantor took issue with the Reserve Bank for its intransigent inflation-targeted policies, which pushed interest rates higher than they ought to have been, and kept them at those high levels way too long.
The problem, said Kantor, was that the Bank was no longer fighting inflation, but rather inflation expectations.
"And therefore, even if the economy is on its knees, when inflation expectations are alive, you fight it with high interest rates. Regardless of its impact on the economy."
South Africa, like most other countries, needs consumption-led growth. For this to happen, interest rates will have be kept down, which is what is expected will happen in 2010 in South Africa, the US and Europe, said Kantor.
"And so, a little less pessimism about the prospects for the South African economy in 2010 are in order,' he ended. "And I think the budget certainly doesn't provide any grounds at all for pessimism."
---
This work is licensed under a Creative Commons Attribution-NoDerivatives 4.0 International License.
Please view the republishing articles page for more information.
---