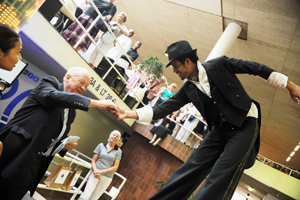 Hand-up: Former vice-chancellor Dr Stuart Saunders (left) hosted the opening reception of the 60th Summer School. He is greeted here by 'Tallman' who entertained the guests.
UCT's popular Summer School started with fanfare on 15 January, celebrating its 60th anniversary with Bits, Bites and Tweets, an exhibition of "living electronic artwork", co-created by Summer School students under the guidance of artist Gwen van Embden.
The exhibition's theme is evolution, as played out in the development of different finch species on the Galapagos Islands, first noted by Charles Darwin more than 200 years ago. The exhibition will become a permanent feature in the Leslie Social Sciences Building.
Medee Rall, director of the Centre for Extra-Mural Studies, explained the show's name: "Bits are for the electronic bits, bites stand for the number of bytes a computer has, and tweets are what computers do."
Students were classified according to a symbolic finch species, and at registration they received a plastic finch cut-out, which they were asked to bring to class for use in the artwork.
The meaning of the exhibition is that through assisted activity in the digital realm of Summer School, the students will evolve and transform a tree of light, sound and colour. They will be encouraged to embrace new knowledge and change and in doing so 'evolve' the landscape of knowledge at Summer School as well as the symbolic artwork.
At the launch of the anniversary, former UCT vice-chancellor Dr Stuart Saunders said the Summer School is a unique programme in South Africa and indicates the university's dedication to public education and life-long learning.
The school will run for ten days, offering 58 courses and eight lectures. These include two free lunch-time lectures, with the first, 2010 FIFA World Cup, taking place on 18 January, and featuring Dr Laurine Platzky, the 2010 FIFA World Cup co-ordinator. The second, As I Remember Them: Virginia and Leonard Woolf, the reminiscences of the Woolfs' nephew, English publisher Cecil Woolf, follows on 19 January.
Attendance is still open for some courses and lectures. Tickets are usually sold five to 10 minutes before the lecture begins, if seating is available. The fee is R65 per lecture, except where otherwise specified. For more information on courses, costs and times, visit the website.
---
This work is licensed under a Creative Commons Attribution-NoDerivatives 4.0 International License.
Please view the republishing articles page for more information.
---