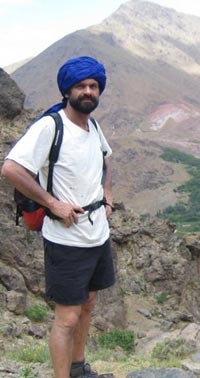 Bridging ICT gaps: Project originator Prof Jean-Paul van Belle (pictured in the Atlas Mountains).
An innovative project that helps small organisations in Africa set themselves up for e-commerce at minimal cost has been so effective that it has won the project's originator, Professor Jean-Paul van Belle, head of the Department of Information Systems, a prestigious IBM Faculty Award.
IBM funding of more than R162 000 will now enable UCT to create an information and communication technologies (ICT) resource toolkit to assist small African organisations to assess their readiness for e-commerce. Once an organisation has assessed its maturity and decided which ICT areas to target, a set of resources will assist it to implement the changes. These include how-to guides, checklists and other self-help materials, customised for Africa.
The toolkit will be free online, and available on CD or DVD. The project has already been prototyped, thanks to seed funding from NGOConnectAfrica.
Acting dean of the Faculty of Commerce, Professor Mike Wormald, said: "We believe this will not only increase the efficiency and effectiveness of organisations, but also help SMMEs and NGOs to leap over the digital divide using mobile internet access, customer relationship management, digital storytelling and open-source platforms.
"We are delighted that we have garnered this award from a pool of thousands of applicants worldwide. This reflects that UCT is on a par with other innovative global universities competing for the IBM Faculty Award, including Harvard and the Massachusetts Institute of Technology."
Van Belle said there are many reasons small businesses in Africa are not yet using information and communication technologies effectively. These include a lack of know-how, an absence of skills and internet access, remote locations, institutional barriers, vendor bias and software costs.
"Bridging the knowledge and resource gaps may narrow the digital divide and also indirectly grow local economies through increased productivity," he said. "There will also be an important feedback loop to larger IT organisations, such as IBM, sensitising them to the needs and challenges of small organisations in the developing world."
Head of IBM university relations for Sub-Saharan Africa, Sean McLean, added: "The IBM Faculty Awards are part of the company's academic initiatives, which include IBM Shared University Research Awards, the IBM PhD Fellowship Programme and the IBM Innovation Awards, which are aimed at fostering the development of curricula relevant to the creation of 21st century ICT skills."
---
This work is licensed under a Creative Commons Attribution-NoDerivatives 4.0 International License.
Please view the republishing articles page for more information.
---