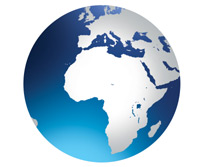 (Sources: Independent Online, Reuters, Times Higher Education)
UCT is one of four Western Cape universities that are embracing soccer 2010 by offering facilities to fans. UCT hopes to make over 3 000 residence rooms available to accommodate alumni and other visitors. Jammie Shuttle buses will transport soccer fans to and from day match games, airports and off-campus tours. The university is also offering big screen broadcasts of games, with refreshments available, in a "secure environment". The university's website is carrying details.
A young, unemployed woman is suing the Tshwane University of Technology (TUT) for R2-million. Although Sharon Kwadi can't afford the kind of lawyers the institution has, she is determined to "see justice done" - to have the institution compensate her for the four years she spent studying towards a programme TUT was not accredited to give. In 2004 Kwadi enrolled at TUT to do a traumatology/criminology diploma, but just before she was due to graduate she learnt that the institution was not accredited to teach the course.
Former president Nelson Mandela received a hero's welcome at the Medunsa campus of the University of Limpopo recently when he attended his grandson's graduation ceremony. "Nelson Mandela ga go yo o tshwanang le wena [Nelson Mandela, there is no one like you]", the crowd sang as Mandela slowly moved to take his seat among the dignitaries before his grandson, Zinhle Dlamini, took an oath as a doctor. Speaking at the graduation ceremony, Dlamini's grandmother, Winnie Madikizela-Mandela, urged the graduates to use their education to prevent diseases and create a better world.
In Mogadishu a suicide bomber disguised as a veiled woman killed at least 19 people at a medical graduation ceremony in a city hotel earlier this month, including three Somali government ministers. It was the worst attack in the lawless Horn of Africa nation since June, when hard-line al Shabaab insurgents killed the security minister and at least 30 others in a suicide bombing at a hotel in Baladwayne.
When he first arrived in South Africa as a refugee from Cameroon, Novel Chegou started working at a Stellenbosch craft market, hoping to raise enough money to continue his studies. On Tuesday, five years after his move, Chegou graduated with a PhD in medical biochemistry from Stellenbosch University. Chegou, who lost both his parents at a young age, grew up in Bamenda in Cameroon. In 2004, he left for Stellenbosch, where his brother was selling arts and crafts at a local market. His work had already been published in a peer-reviewed international medical journal.
A recent study estimated 1.2 million American high school students drop out of school each year, with more than half of 16- to 24-year-old dropouts facing joblessness as low-skill jobs disappear. Among black dropouts aged 16 to 24, unemployment soars to 69%, and 23% of black dropouts are incarcerated. Dropping out "is no longer an option", President Barack Obama told Congress earlier this year. The US graduation rate was a few percentage points below the OECD average. Germany ranked first, and seven other nations, including South Korea, Israel, Finland, and Japan, graduated at least nine out of 10 students.
UK universities stand accused of hypocrisy over their claims to value teaching, after a major study of promotions policy and practice found that many are still failing to reward academics for leadership in pedagogy. Research by the Higher Education Academy and the University of Leicester's "Genie" Centre for Excellence in Teaching and Learning examines the promotion policies of 104 UK universities. In the research-intensive Russell Group and 1994 Group universities, only 58% and 35% cent, respectively, feature criteria on teaching and learning in their policies.
---
This work is licensed under a Creative Commons Attribution-NoDerivatives 4.0 International License.
Please view the republishing articles page for more information.
---