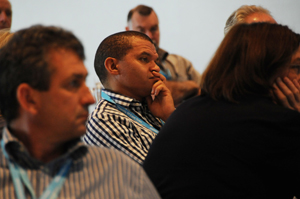 Big topic: HoDs at the recent workshop on transformation.
Transformation was the refrain of the day as heads of academic departments met with vice-chancellor Dr Max Price and executives at a special meeting on 29 October.
Such is the scale of the topic that for the day, at least, aspects such as demography and the "knowledge-project" - what is taught and researched at UCT, and how - had to be put on the back burner, Price explained. Rather, the discussion was narrowed down to one specific feature - institutional culture.
Institutional culture is critical, said Price, because it's been found that black staff leave UCT at a much higher rate than white staff do. This, it would appear from exit discussions, has something to do with their experiences at the university.
"Institutional culture is something we can do more about," said Price. "But it's also the area that it's hardest to do something about, because it's not clear what the intervention is."
Professor Crain Soudien, acting vice-chancellor for transformation, echoed Price's sentiments as he recalled discussions he had with black staff at UCT in 2008, when he led the ministerial delegation looking into transformation issues at South African universities. The UCT that black staff described was eye-opening, said Soudien.
"It was a UCT I did not recognise," he told the heads of departments. "Black people have a very different experience of being here."
The meeting last week, then, was to see what HoDs - by and large still white males, as one delegate pointed out - can contribute to the debate. To spark discussion, Professor Francis Petersen, dean of the Faculty of Engineering & the Built Environment; Professor Ian Glenn, director of the Centre for Film & Media Studies; and Professor Bongani Mayosi, head of the Department of Medicine, ran through some of the lessons they've picked up - sometimes "blundered" into, as Glenn put it - in their own transformation initiatives.
"We don't necessarily have all the answers," said Petersen. "I'm not saying our model is the perfect model; it's just a way of stimulating some discussion."
---
This work is licensed under a Creative Commons Attribution-NoDerivatives 4.0 International License.
Please view the republishing articles page for more information.
---