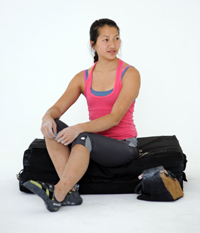 Julia Chen scrambled up a lot of trees when she was younger, but thinks her piano training has probably played a bigger part in her rapid climb - get it? - to bouldering success.
Just two years after first taking up the sport, Chen, 24, has become the top woman boulderer in the country. And this year she's scaled some tricky rocks, earning some seriously high grades, including a 7B+ first ascent. (In the discipline, the Fontainebleau system grades climbs by difficulty from 1 to 8C+.)
Bouldering, for the uninitiated, is done mostly on outdoor boulders and without a rope and, unlike sport climbing, without anchors, grips or bolts. And although it is normally limited to very short climbs over a crash pad - to cushion any falls - climbs can go up to eight metres.
So as with any rock climbing, a strong grip comes in handy. Which is why Chen figures she had the upper hand on others.
"Playing the piano really strengthens your fingers," says the architecture student.
The appeal of bouldering, she adds, is the novelty of the sport.
"It's always a challenge. There's something new and different every time."
Such as the spot at Red Hill in Simon's Town where, in May, she earned the national open title. Yes, she was pipped by American student Cidney Scanlon, but being the top South African there, Chen took the national honours.
And if climbers want to polish their technique, they couldn't ask for a better outdoor gym than right here.
"In South Africa, the possibilities are endless," says Chen. "There's so much rock, so much potential.
"Even in Cape Town, there are so many boulders, so many crags that haven't been climbed yet."
---
This work is licensed under a Creative Commons Attribution-NoDerivatives 4.0 International License.
Please view the republishing articles page for more information.
---