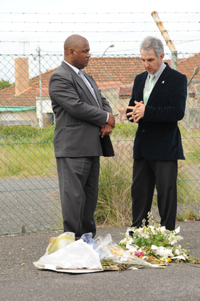 Two heads: Mayor Dan Plato (left) and Dr Max Price conferred on common security issues last week, meeting at the spot where student Pakiso Moqobane was killed recently. (Listen to the VC's address at the memorial march).
It would be foolhardy to assume that UCT is crime-free, but when weighed against neighbouring business and residential areas, the university's campuses are, relatively speaking, safe havens.
But as the killing of first-year medical student Pakiso Moqobane and other recent incidents have shown, having a safe campus does not guarantee staff and students' off-campus safety, as they pass through, live, shop or just hang out in these often high-crime areas. And as crime - particularly violent crime - is one of the issues that vice-chancellor Dr Max Price has, even in his installation address, argued that UCT should address, the university has been making forays into its surrounding suburbs.
For instance, UCT has regular meetings with station commanders from the three nearby South African Police Service stations - Mowbray, Rondebosch and Woodstock (the latter covers the Observatory area). At these meetings, the organisations share information, compare statistics and identify common issues.
In fact, this collaboration recently led to the break-up of a car-theft syndicate that had been targeting Toyota Tazzes, reports Roland September, who takes over from risk services manager John Tunstall when he retires at the end of 2009.
"This is a very good, very strong relationship," says September.
In addition, UCT has spearheaded an upcoming application to have the Rondebosch/Mowbray business areas declared Special Rating Areas (SRA), similar to the commercial City Improvement Districts (CID). Among other things this would allow for 24/7 patrols by private security companies.
Under the SRA agreement, the city charges businesses a special levy for this service. In the case of the Rondebosch/Mowbray residential areas, however, UCT has agreed to foot the bill for the first year of operations.
"This is a way to get our foot in the door to upgrade security in the area," said Tunstall.
Similarly, UCT has supported the application by Observatory, another student stomping ground, to be declared a CID.
At home, UCT has hardly been treading water. Over the past two years, the university has spent close to R3 750 000 to upgrade its existing closed-circuit television cameras. In addition, it's installed Pan Tilt Zoom cameras, which are standard at all the university's new developments, at a number of locations around its campuses.
Two such cameras are being installed along Falmouth Road at the back of the medical campus, in the vicinity where Moqobane was shot.
Such has been UCT's outcry at the murder that Mayor Dan Plato of the City of Cape Town called for a special meeting with Price early last week. The two met on the street where Moqobane had been killed, within earshot of the spot where another student was hijacked recently.
Price explained that the university had extensive security systems in place, but needed the City's help.
"The problem is that we can't be on every street 100% of the time," said Price.
The mayor, in turn, promised that the city would look into what it could do to assist.
"The reason for my visit is to see how best the City could complement the measures taken by the university, to bring some comfort to the minds of students," said Plato. "This is one student death too many."
Speaking on UCT Radio early last week, September reiterated the messages that Campus Protection Services have put out regularly to students - if you're going to walk around at night, do so in groups; don't advertise your bling (expensive cellphones and iPods are sought-after gadgets); and use the Jammie Shuttles, which run from 06h00 to 01h00 and do regular residence loops at night. And, above all, be alert and be careful.
---
This work is licensed under a Creative Commons Attribution-NoDerivatives 4.0 International License.
Please view the republishing articles page for more information.
---