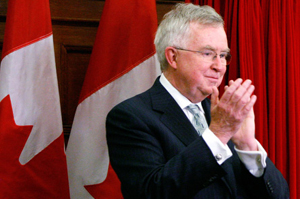 Canada's small, intense role in the South African struggle for liberation was as important to Canada's sense of accomplishment as it was to South Africa.
"We demonstrated that Canada, though not a major power, could have an impact on events."
So said former Canadian Prime Minister Joe Clarke, who visited UCT's Centre for Conflict Resolution to deliver his presentation, Canada as a Middle Power: What lessons for South Africa?
Despite this title, Clarke was quick to point out that he was not here to give lessons to South Africa, but to speak of "parallels between the internal nature and the international capacities" of the two countries.
Clarke noted that like Canada, once dubbed 'the first international country', South Africa has the opportunity to be an asset to its neighbours.
"I argue that successful domestic policy requires addressing critical questions that arise beyond our borders, and which have real effects on lives and futures at home," he said.
Citing South Africa's economic, cultural and social diversity, Clarke said, "You are, by your nature, a bridge between the developed and developing worlds.
"The basic challenge now is to have our major international institutions reflect the world and not just the West. This will require the experience in bridging differences to which both South Africa and Canada lay claim.
"We could be quite an effective team."
---
This work is licensed under a Creative Commons Attribution-NoDerivatives 4.0 International License.
Please view the republishing articles page for more information.
---