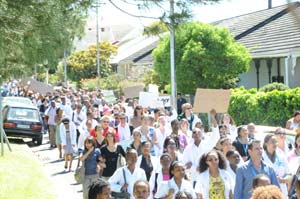 Take it to the streets: Hundreds of UCT staff and students and members of the community joined a protest march on Friday, 2 October, following the killing of first-year medical student Pakiso Benny Moqobane on 28 September.
They came in their hundreds in the hot midday sun - health sciences staff and students, members of the UCT and broader communities - to march through the back roads of Observatory to William Street, where first-year medical student Pakiso Benny Moqobane was killed on 28 September.
Some carried flowers, others held placards calling for the protection of students - and for peace and safety.
In his pre-march address, alongside Moqobane's family, Vice-Chancellor Dr Max Price said he was angry: angry at the lack of freedom to walk between digs, the library and the university; at the gratuitous violence pervasive in South African society; with the government and the police for inadequate protection of the country's citizens; and at the entrenched drug culture in the Western Cape.
All were factors that fuelled "pointless violence".
"We have to change the culture of the country," he said.
Fighting crime was the government's number one priority, he added.
"If we lose this fight, we lose the country. UCT can do more and we must do more."
To this end, UCT had thrown its weight behind the formation of a central improvement district that would work with private security companies to eradicate crime.
Price said he was also raising funds for a clinical research centre, which would be linked to Valkenberg tertiary psychiatric hospital and UCT's Department of Psychiatry and Mental Health. The proposed centre would address both research in the area of addiction and substance abuse, and addiction treatment in the community.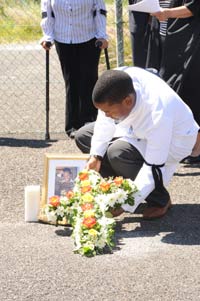 After a cross of flowers and other bouquets were laid in William Road, dean of the Faculty of Health Sciences, Professor Marian Jacobs, delivered a statement.
"We are deeply distressed by the untimely, unacceptable death of first-year medical student, Pakiso Benny Moqobane. We are also concerned about the backdrop to the theft of this young life, for in our community around our faculty, the spiraling crime and violence has had a widespread effect on our students, staff and the very community that we serve as healthcare providers.
"This should never have happened; Pakiso should today be preparing for a career in health service to the community as a doctor. Instead, we are mourning the loss of a young man who had so much potential. This tragedy has sparked outrage and horror. Through our actions today we convey our condemnation of this cruel act.
"We call upon the South African Police Services, the university and broader community to commit to reclaiming the security of our community and making this a safe place to learn, to work and to be."
---
This work is licensed under a Creative Commons Attribution-NoDerivatives 4.0 International License.
Please view the republishing articles page for more information.
---