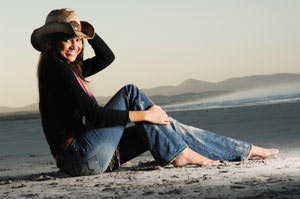 UCT student and Miss Earth South Africa 2009, Chanel Grantham, is set to cheer on surfers and promote environmental awareness at an Earthwave festival in Muizenberg this weekend.
Grantham, a BSc student in property studies, will be the guest of honour at the event, where surfers will gear up to break the Guinness World Record for the most surfers riding the same wave. The surfing community is trying to break the current record of 100 surfers, set at Earthwave Brazil last year.
The two-day festival, on 4-5 October, forms part of the global Earthwave surfing and sustainable lifestyle festival.
Known as the "Queen of Green", Grantham said the world is faced with a global warming crisis, and everyone should play a role in dealing with it.
"We all need to be aware of our responsibility to reduce our carbon footprint," she said. "As Miss Earth South Africa, my key focus is to create green consciousness in South Africa, particularly amongst our youth.
"My message at the event will be to re-duce, re-use and re-cycle, with a key accent on my favourite "Re-"....that is RE-SPECT! Respect our environment, particularly our beautiful beaches."
The Miss Earth SA organisation promotes environmental awareness through a number of greening initiatives.
---
This work is licensed under a Creative Commons Attribution-NoDerivatives 4.0 International License.
Please view the republishing articles page for more information.
---