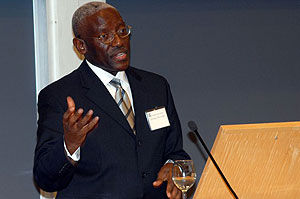 Chief Justice Sandile Ngcobo.
President Jacob Zuma's announcement yesterday, 1 October, of the appointment of Justice Sandile Ngcobo as the country's new Chief Justice is to be welcomed, says Anashri Pillay, a senior lecturer in UCT's Department of Public Law.
"The recent furore over judicial appointments should not be allowed to detract from the fact that, in the appointment of Justice Ngcobo as our next Chief Justice, South Africa gains a worthy successor to Justices Chaskalson and Langa," said Pillay.
"Justice Ngcobo has a distinguished background as a legal scholar, practitioner and judge. He has served on the Constitutional Court bench since 1999. As was noted in his interview with the Judicial Service Commission (JSC) before his appointment to the Constitutional Court, Justice Ngcobo's career exemplifies serious commitment to public interest, constitutionalism and the law."
Pillay said that among his many judgments as a judge of the Constitutional Court, Ngcobo's well-crafted dissent in the Prince matter, which dealt with the use of cannabis on religious grounds by a member of the Rastafari community, had stood out.
"In this judgment, he emphasised the importance of protecting diversity in a free and open society. His judgment for a unanimous court in Hoffmann, which dealt with discrimination on the basis of HIV status, is also a highlight of his career on the bench. Engagement with principles of international law features strongly in his judgments. His appointment as Chief Justice is to be welcomed."
Pillay said that it was regrettable that the process had been dogged by controversy. Despite President Jacob Zuma's acknowledgement of his earlier erroneous use of the term 'appoint' when he clarified to the media his intention only to nominate Ngcobo as Chief Justice, opposition parties had continued to object to the process.
"That their objections, together with the controversy over which candidates the JSC would nominate for the Constitutional Court bench and speculation over why the President chose not to nominate Justice Dikgang Moseneke as Chief Justice, hang like a cloud over yesterday's announcement, is a great pity."
---
This work is licensed under a Creative Commons Attribution-NoDerivatives 4.0 International License.
Please view the republishing articles page for more information.
---