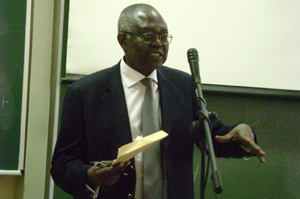 Develop Africa: Prof Jean-Pierre Ezin
Scientists need to advocate strongly for the development of science and technology on the African continent, as heads of state lack commitment to do so, said prominent scholar Professor Jean-Pierre Ezin.
Speaking at an open lecture, Establishing a Pan-African University, at the Muizenberg-based African Institute for Mathematical Sciences (a collaborative project between UCT, Stellenbosch University and the University of the Western Cape), Ezin said only two countries on the continent had fulfilled a decades-old agreement for each nation to dedicate one percent of its gross domestic product (GDP) to the development of science and technology.
"To win this battle, we decided to set up the Pan-African University (PAU)," he said.
Ezin is a commissioner in charge of human resources, science and technology for the African Union Commission, an executive branch of the African Union. He is also the director of the Institute of Mathematics in Benin.
The PAU will see five centres of knowledge established in Africa's southern, central, eastern, northern and western regions, based on the topic of strategic importance in each region.
For instance, in Southern Africa, the PAU node is to be set up at Stellenbosch University to focus on space science, linking to the region's bid to host the Square Kilometre Array. Other nodes will be established next year and in 2011, and will focus on the science of water and energy, earth and life sciences, basic science and technology, and social science and governance.
---
This work is licensed under a Creative Commons Attribution-NoDerivatives 4.0 International License.
Please view the republishing articles page for more information.
---