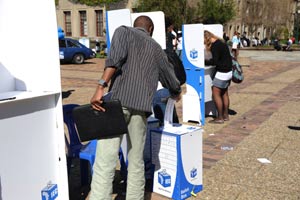 The results are in: UCT students have elected the new members of the 2009/2010 Students Representative Council.
The Democratic Alliance Students Organisation (DASO) confirmed its control of student politics at UCT when seven of its eight candidates were elected to the Students Representative Council (SRC) for the 2009/2010 term.
According to the provisional results announced on 31 August, only DASO's Tsepo Serakalala did not make it.
Their closest rivals in the past, the South African Students Congress (SASCO), have seen a decline, with only two of its five candidates making it on to the new council.
The independent candidates won six seats, while the new organisations, the Congress of the People UCT and Free UCT (FUCT), did not secure enough votes to see any of their combined 11 members voted onto the 15-member council.
The results show that DASO will have Tara Dales, who secured the highest number of votes, as well as Erik De Ridder, Joseph Ball, Shannon Bernhardt, Zamantungwa Khumalo, Richard McLaverty and Michell Mpike on the new student body.
Independent candidates Mbali Mbatha, Melvyn Lubega, Sizwe Mpofu-Walsh, Saif Islam, Wandile Mamba and Lwando Maki were also elected, as were SASCO's Sumaya Hendricks and Londeka Mkhize.
The election poll for these elections was 42%, almost the same as in 2008.
The results have now been announced to be final with no objection.
Chris Ryall, the current SRC president, will convene a constituting meeting in 10 days' time. The new SRC will only take office on 1 November 2009, with September and October set aside for induction and handover.
---
This work is licensed under a Creative Commons Attribution-NoDerivatives 4.0 International License.
Please view the republishing articles page for more information.
---