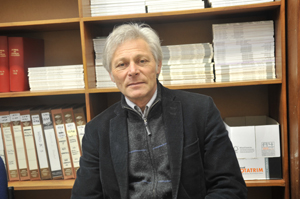 Gold medallist: Prof Mino Caira, director of the Centre for Supramolecular Chemistry Research, has clinched the SACI Gold Medal for 2009.
Professor Mino Caira, director of the Centre for Supramolecular Chemistry Research, has been awarded the South African Chemical Institute's (SACI) Gold Medal for 2009. This award honours outstanding scientific contributions to the field of chemistry or chemical technology.
"I'm greatly honoured to be ranked among the distinguished chemists who have been past recipients," said Caira.
"In 2002 I received the award of Doctor Honoris Causa for pharmaceutical research from the University of Medicine and Pharmacy in Romania, but it is also pleasing and reassuring to receive recognition from SACI, the official professional institute for chemistry in South Africa.
"I share the honour with my colleagues and students in the Department of Chemistry, and with my external collaborators, all of whom, in one way or another, have supported or contributed to my research output, which is the basis for the award."
Caira's research is directed mainly towards altering the physical properties of medicinal compounds to improve their performance as therapeutic agents.
The goal of this 'molecular tuning' is to diversify by producing novel drug forms with a technological edge, or with the potential for different applications, such as controlling drug release rates from tablets or capsules, reducing adverse side effects, or rendering the drug more palatable.
"A source of significant personal satisfaction in training students in this research area is knowing that in generating these new drug forms and exploring their solid-state chemistry, they learn not only to use appropriate modern analytical techniques to characterise them, but to anticipate problems that frequently arise in pharmaceutical manufacturing, and be innovative in addressing them," said Caira.
"This is a highly prestigious award which brings great honour to Mino, the Department of Chemistry and UCT," said the head of the Department of Chemistry, Professor Allen Rodgers.
---
This work is licensed under a Creative Commons Attribution-NoDerivatives 4.0 International License.
Please view the republishing articles page for more information.
---