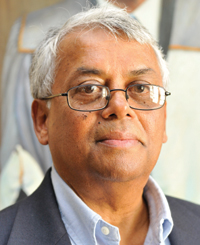 John Samuel has been appointed as Special Assistant to vice-chancellor Dr Max Price to help UCT develop a co-ordinated plan that will enhance the university's bid to improve school education in South Africa.
Vice-chancellor Dr Max Price has appointed John Samuel as his special assistant and strategic advisor to develop a co-ordinated plan that will enhance UCT's bid to improve school education in South Africa.
This is one of the areas Price highlighted in his inaugural address last year and in a subsequent strategic goals proposal. Samuel's appointment is a temporary, five-month contract, from 1 August to 31 December 2009.
"This is an urgent imperative," said Price. "UCT can and must play a significant role in this way. There is already an extensive network of innovative, school-based work, driven by various departments within UCT, to improve learning and learner performance in schools."
He said an enhanced and co-ordinated approach to these interventions has the potential to bring "serious role-players" together to improve schools and better prepare learners for higher education.
UCT intends to roll out a plan of action next year.
Until recently, Samuel was the chief executive and chairperson of the Oprah Winfrey Leadership Academy for Girls. Before this he was chief executive of the Nelson Mandela Foundation.
Under his leadership the foundation commissioned three major national studies that influenced policy development in this country and internationally, including Emerging Voices (2003-2004). This dealt with the critical challenges of rural schooling. The work resulted in the former Minister of Education setting up a rural school forum to develop strategies to tackle these challenges.
Between 1994 and 1997 Samuel was deputy director-general of the national Department of Education. In 1996 the Minister of Education appointed Samuel as head of the Department of Education's transformation task team, which shaped a new vision and mission and set benchmarks for significant internal reform.
In 1997 he was appointed head of the new division for higher education, responsible for preparing the Green and White papers on higher education, which became the basis for restructuring higher education in South Africa.
"It is my intention to use John's expertise to develop an action plan in the area of UCT's participation in improving school education," said Price. "This initial work will also steer us in understanding if a pro-vice-chancellor's position in this area is appropriate - what the job descriptions or expected objectives would be for such a post.
"It will also write funding proposals to take to donors to support longer-term interventions. John will be visiting various departments and student volunteer societies to gather information and to get an understanding of what is being done. Staff are also welcome to get in touch with him directly on ext 4805."
---
This work is licensed under a Creative Commons Attribution-NoDerivatives 4.0 International License.
Please view the republishing articles page for more information.
---