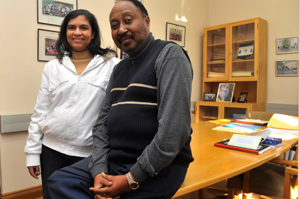 Milestone: Congratulations to DVC Prof Thandabantu Nhlapo, who celebrates his 60th birthday on 27 June, photographed with his PA, Glynis Jethro.
A 60th birthday is an occasion worth celebrating and Deputy Vice-Chancellor Professor Thandabantu Nhlapo intends doing just that when he hosts a party at the River Club for friends and family from across Southern Africa and beyond.
"Now that it's here, I am rather surprised that it finds me hale and hearty," he said.
An alumnus of the University of Botswana, Lesotho and Swaziland, Nhlapo said his student years had created an international network of friends unlike any other.
"Getting to 60 one looks around to find one's classmates and contemporaries are very well placed all over the world, some in cabinets, others in business and sport."
The best part about organising a 60th party has been choosing the music, old R&B ("Not the stuff they call R&B now.") and soul; groups like the Crusaders and artists like Marvin Gaye , Percy Sledge and Wilson Pickett. (Nhlapo has had all his old vinyls converted.)
Many will join him in Cape Town to celebrate this milestone, a party at which he plans to revisit his university reputation as "the DJ of choice", created in the 1960s when he met his wife, Mathokoza, on campus. Nhlapo says that many of his married friends met each other at the same university.
"I rather hope it was the slow dances to my music that cemented these relationships," he quipped.
And of course there are many perks attached to turning 60.
"I am thinking of all the things I am entitled to discounts on, like travelling from Steenberg to Rondebosch on the train for a fraction of the ticket price, or specials on Table Mountain and other tours. If I can get a break, that will be quite nice."
---
This work is licensed under a Creative Commons Attribution-NoDerivatives 4.0 International License.
Please view the republishing articles page for more information.
---