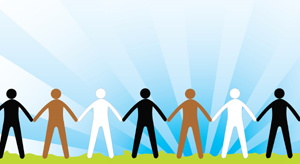 It may be difficult for some to believe, but race and gender discrimination are still very much alive and well, and probably on a campus near you. Residences are still racially segregated, sexual and racial harassment is evident, and at Rhodes, gay men are allegedly assaulted and lesbians raped to "cure" them.
These were just some of the findings documented in the Crain Soudien Report that was published after a six-month, country-wide investigation into the prevalence of discrimination at South African universities by a 10-strong investigative committee, headed by UCT acting deputy vice-chancellor Professor Crain Soudien.
Soudien has focused his career on the subject. With experience working for the United Nations Educational, Scientific and Cultural Organisation (UNESCO) and the Human Rights Commission, he has earned his standing in the field. Soudien has written extensively on how racism works, its causes, and how it operates in schools and universities.
"You could say I have a track record," he says.
Established by the Minister of Education, Naledi Pandor, the Committee on Progress Towards Transformation and Social Cohesion and the Elimination of Discrimination in Public Higher Educational Institutions conducted extensive interviews with representatives from every university in the country, including students, academic and PASS staff, management and councils.
The committee's aim was to discover the nature and extent of discrimination and the counter-steps that have been taken by institutions, and to suggest further methods to combat the problem. Each university was invited to give a statement on their existing transformation process, and was asked to put together a representative group for the interview process. There were instances, however, when institutions selected people with a particular bias to represent the university.
"There were times when participants tried to show us nothing more than window dressing, or attempted to dictate what the students told us," says Soudien. "We wouldn't tolerate this, and I had to intervene personally to prevent this from happening on occasion."
But on the whole, interviews were revealing, and sometimes fraught with emotion.
"It was surprising how much emerged from the meetings, despite the fact that a number of participants were scared to speak out."
Each interview took up to two hours and, in some instances, up to 30 representatives were present to air their views.
The committee's resulting assessment is disquieting.
"There is virtually no institution that is not in need of serious change or transformation," it claims in the report.
"Segregation is not as strange as you may think," notes Soudien. He explains that in many instances the integration is even consensual.
"Hostility and opposition to segregation kept the University of the Free State residences racially divided, until the vice-chancellor decided that the practice of consensual segregation was intolerable."
The result was the notorious race video that resulted in country-wide protests, the closure of the university's Reitz residence, and Pandor's establishment of the ministerial committee to address the issue.
Soudien notes that the video was just an example of the level of opposition to integration.
"We found that white students in some institutions were more hostile to the idea of integration, while black students were far more easy-going about the idea. It's far less of an issue for them."
But not all apparent segregation is based on overt intolerance. Soudien explains that in some residences they found an unofficial form of discrimination, with students and floor wardens deciding who gains admittance.
"This can result in a situation where a particular type of student always finds themselves in a particular kind of residence. In this casual manner, a residence can become 'innocently' segregated."
The report's recommendations include the establishment of a transformation watchdog, the appointment of an ombud by each institution, and the banning of all initiation practices; and for residences, placement policies that create opportunities for students from different backgrounds to live together.
But these are easier recommended than implemented.
"It's hard to challenge people's practices when they are so ingrained in the university's history and culture. We can't simply walk in and outlaw common practice, as all this will do is drive the practice underground."
The solution?
"Education," says Soudien. "Universities are meant to encourage free thinking and challenge perceptions, but in many instances, lecturers are simply entrenching the prejudice of their students.
"New students need a proper induction into what a university is all about."
---
This work is licensed under a Creative Commons Attribution-NoDerivatives 4.0 International License.
Please view the republishing articles page for more information.
---